Training Kelpie sheepdog Molly's taken a while but now she's keeping her sheep together well.
If you've read our Kelpie vs Collie blog, you'll know that we've had our ups and downs with Kelpies over the years, and I've personally been on the receiving end of some bitter comments from enthusiasts for what I wrote about Kelpies.
That's a pity, because the people who directed their vitriol and untrue accusations in my direction clearly hadn't taken the trouble to read any further than the part where we returned our young Kelpie to his breeder. The blog went on to describe some really impressive Kelpies that later came here on training courses. (We no longer run sheepdog training courses).
Putting the criticism aside, I learned from these promising young dogs that Kelpies are perfectly trainable using just the same methods that we use for training collies. Our mistake was expecting them to mature as quickly as collies. We're aware that there's very little information on training Kelpie sheepdogs to work stock, so we eventually decided to include the training of Kelpies in our sheepdog training tutorials.
We duly announced that we were looking for a Kelpie puppy and quite soon we had one on order, but then our pup and all his litter mates were stolen from their breeder in Shropshire! This was very upsetting for both ourselves and of course the breeder. We quickly assumed we'd never see the pup we'd ordered and being keen to get started with our Kelpie training programme, we approached Red's breeder to see whether he had anything suitable. Sure enough, he sold us Will who was just over six months old.
At the same time, we heard about another Kelpie pup (this time a female) who would be ready in May, so we took the plunge and ordered that one. Now we'd have two Kelpies to work with in our tutorials!
Soon after we ordered this female puppy, we had a call from the breeder of the original puppy to say that thanks to a huge response on social media, the entire litter of stolen pups had been tracked down to an address in North Wales and they were now on their way home to Shropshire!
Well, of course we couldn't possibly say we no longer needed the pup, so the next day we went and collected Tucker. Now we had two Kelpies in the yard (well, Tucker lived in the front porch for a while) and our name on another puppy which would bring our Kelpie 'pack' to three!
Kelpie Molly duly arrived in May 2016. Read about her on this link.
Will got off to a bad start.
After he'd settled in for a while, we took Will to the sheep and we were disappointed to find that he was extremely aggressive with the sheep. His behaviour was very similar to Red's but much worse. He didn't like being corrected and if you did correct him, he seemed to take his revenge out on the sheep as soon afterwards as he could. This was quite disturbing but after all, it was his first session. Doubtless he'd improve after a while.
Will's progress was very slow. I regularly train collies at six months of age, but training Kelpie sheepdogs is different. Will was immature. I should have been more patient. His sessions with sheep were occasional and brief, because they were such an unpleasant experience. It was difficult to stop him from attacking the sheep constantly. It took a long time before he became more manageable around sheep, but once he settled down, he began to make satisfactory progress and went to work on a sheep farm a few weeks ago.
We loved will as a dog, but I hadn't liked him when he was around sheep. He's one of the most difficult dogs I've trained but having said that, now that he's more trustworthy, I can see great potential in him as a sheep and cattle dog.
Tucker on the other hand, has been a pleasure to train. When he was a puppy, he somehow found a way to get into the sheep pen and liked nothing more than to hassle them all up to one end of it. Fortunately he made such a noise while he was doing it, we knew immediately what was happening and we were able to capture him and take him away quickly.
Because of Will's aggression with sheep, I was apprehensive about training Tucker, but although he made a lot of noise and worked very fast, he wasn't actually attacking the sheep at all. It was fairly easy to get him to go round them and soon he would stop, too.
Molly on the other hand, was extremely disappointing. She was reluctant to go near the sheep, and then she'd charge at them, scattering them in all directions, and if corrected, she't stop working at all until your attention was off her, and then she'd scatter the sheep again. At least she wasn't biting them though.
Just as with Will, Molly was immature. We gave her a handful of lessons and then decided to leave her for a few months. It paid off handsomely.
For the first time in a couple of months I took Molly to the sheep yesterday, and although she was reluctant to approach them at first, she quickly began to work well. I was so impressed I called Gill and asked her to come and watch! Molly was fully focussed on her sheep. She flanked beautifully, her pace was steady and I could stop her, but she sheep knew she meant business, and they showed her a lot of respect.
Our only problem was getting her away from the sheep at the end of the session. She refused to come to me, and sprang out of the way if I tried to catch her, so I asked Gill to go and fetch Scylla, thinking that Scylla would hold the sheep tight into a corner while I concentrated on catching Molly. It worked out easier than that though. Once Scylla was near, I could see that Molly had relaxed. I crouched down and called Molly, and she came to me immediately!
Man of the Match Award
Since we began training sheepdogs, Gill and I have often referred to whichever dog shows the most improvement in a training session as "Man of the Match". It's only a bit of fun, but it's great to note which dogs are learning quickly. With one exception (who will remain nameless for the time being) yesterday's session was excellent. Molly, Mew, Jago and Maddie all performed very well, but the clear "Man of the Match" was Molly! It's great to give that (albeit imaginary) award to a Kelpie at last.
Now I can't wait to take Molly to sheep again! Watch this space, and look out for training Kelpie sheepdogs in our training tutorials soon.
---
FROM CHAOS TO CONTROL!
2xDVD set. Watch the Preview Here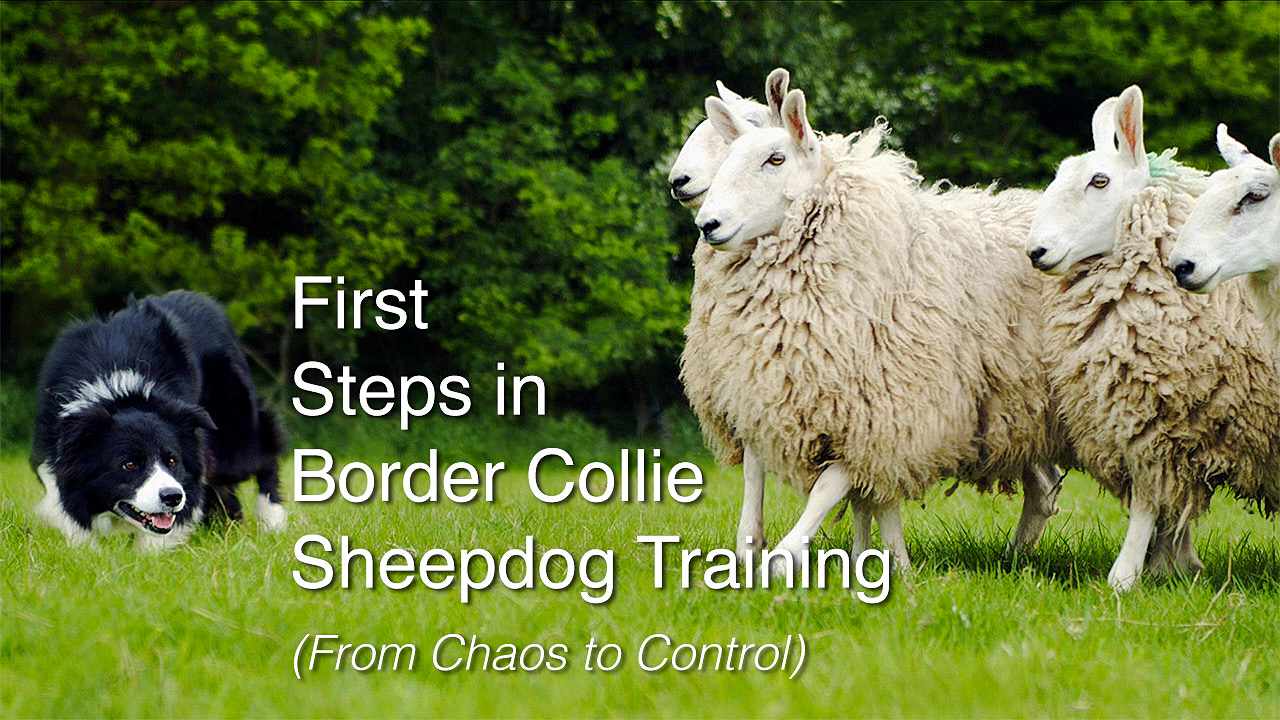 Learn how to train your first sheepdog with the 2xDVD set that shows sheepdog training as it really is! As well as clear instruction on what to do, you'll see things going wrong and how to put them right. More info
We automatically ship the correct format for your location. Choice of six currencies to pay with! More info
---