Matt reaches a major milestone in his training
One of the best things about training sheepdogs is witnessing that magic moment when the dog realises what it's all about. Some dogs are very hard to train, others seem to take to it naturally, but it's the moment when "the light comes on" for a difficult dog that gives me a real buzz.
Matt's a young border collie cross who came to us a couple of months ago, after he'd had a disagreement with a cherished labrador at his previous home. Just after he arrived he had a squabble with Ezra – one of our toughest dogs – but it was nothing serious (more of a heated hierarchical discussion than a fight) and since that little dispute was settled (in Ezra's favour) he's been absolutely fine with all our dogs (over twenty of them).
He's clearly a tough dog though. He plays hard when there's a ball or frisbee involved – barging in and grabbing the prize with no regard for others – and he's acrobatic too, frequently snatching a frisbee out of the air with astonishing precision.
When it came to working him on sheep he was quite difficult, despite some previous training with a well-known sheepdog trialler and trainer. I've worked him regularly in the weeks since he came and he seemed to be making a little progress, but it was slow, and he couldn't be trusted. Nor would he walk away from the sheep without darting back and scattering them.
This morning when I took him to sheep – just after 6am to avoid the hottest part of the day – it was a different story. Despite being very excited at the prospect of going to sheep, he was obedient from the start. We went into the paddock and, as I set him up for a short outrun, I had a good feeling. Previously he would dart off to the sheep before he was sent, but this time his body language was different and I could tell he was going to stay there. I sent him off and he went out, perhaps a little tighter than I'd have liked, but steady and clean. On the "Lie Down" command, he obeyed immediately. I was delighted.
Matt flanked well, stopped well, walked up nicely on his sheep when asked to, and after a little coaxing he walked with me away from the sheep. After rehearsing this for a few minutes, to reinforce the notion that walking away from the sheep often means he'll get another outrun, I decided to see whether he had any aptitude for driving. Initially he was very confused when I tried to keep him in place and move behind him but, as soon as he realised that he was going to be allowed to move closer to the sheep, he quickly accepted the new situation.
By the end of the twenty-minute session Matt was driving the sheep a few yards in front of me, and I have no doubt that he'll be an excellent driving dog. I'm really looking forward to our next session!
CLEAR, AFFORDABLE SHEEP AND CATTLE DOG TRAINING INSTRUCTION
JOIN NOW!
The price you pay will not increase while your membership is valid
Over 70 clearly explained, easy to follow sheep and cattle dog training videos for first time sheepdog trainers, farmers, and shepherds. Just £10 per month or £100 per year (choice of currencies for payment). Watch the preview here!
For French, Spanish or English SUBTITLES click "CC" on player.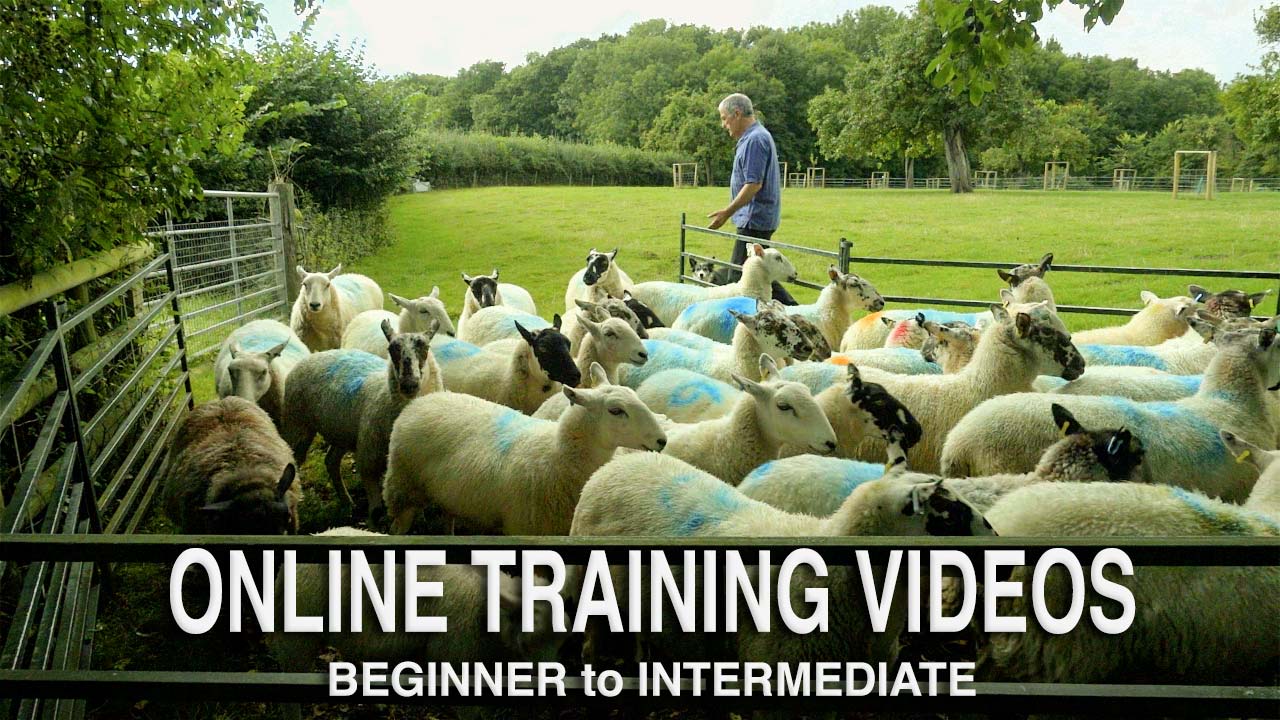 For a very small monthly (or annual) subscription, watch many hours of expertly presented sheepdog training lessons. Not just theory – we show you what should happen, and what to do when things go wrong. Signup now. It's easy to cancel payments at any time and you can continue to watch for the period you paid for.