Does your sheepdog training sometimes feel like a fight to protect the sheep?
We welcome questions from subscribers to the online tutorials, and a common problem (sometimes described as "the red mist") can be summed up by this extract from a recent email.
"We are training an 18 month old B/C bitch we have owned for three months. She is very strong willed. We struggle with the stop and don't trust her to work in a larger area or with more sheep as she is extremely fast and tight and has a tendency to grip.
"We move the sheep along a fence to prevent her from constantly circling but when she tires (after about 20 mins) we can get her to settle. She is still closer to them than I would like though.
"Away from the sheep she's obedient, and listens well."
In the long run strong willed dogs can be among the best sheepdogs, but training them may be extremely trying and can feel like a thankless task when progress is slow.
Here's Andy's response to this particular trainer, and I hope others will find it helpful if faced with a similar situation.
"From what I read, you're attempting to progress too quickly. If you've had an eighteen month old dog for only three months, she will not yet be fully bonded with you. She may be perfectly OK away from sheep, but she won't fully respect your authority when "hunting" – and that's what she's doing when she's around sheep.
"To speed this bonding process, the main handler / trainer of the dog should have the dog with them whenever possible. A dog learns nothing while it's in a pen.
"I recommend you use a training ring of the same size as ours, made from 28×1.8m (6 foot) sheep hurdles/panels, and have the dog inside the ring with no more than three or four sheep. You must train the dog to go round the sheep without diving in and splitting or gripping them.
"This is also a good time to teach the stop. If the dog won't stop, you have to MAKE it stop. Move through the sheep towards the dog, if necessary, and block it firmly using the stick and/or your raised arms.
"You must be even stronger-willed than the dog, otherwise the dog will get its own way, as yours is now.
"Every time the dog gets its way, it's learning that IT is the boss – not you (the trainer). The longer this goes on, the more the dog will be convinced that it knows best.
"Go back to the beginning with the dog. Teach her to go round the sheep and keep them together – but to keep back from them. You can also stop her on occasions, but the main thing is to MAKE her behave herself in the presence of the sheep.
"Until you can rely on her to do this, she's not ready to go out of the ring.
"When you feel the dog is ready to come out of the ring, follow the instructions in the "Coming Out" tutorial. As the sheep run out the dog's immediate reaction should be to gather them together and hold them to you. If the dog runs after one or more and chases it away, or grips and hangs on, the dog isn't ready to work outside the ring yet.
"The closest tutorials that come to mind are "Starting a Strong Dog" and "Bronwen and Scylla" (Scylla being the relevant dog in your case) and, once you begin to get better control, "Walking Backwards".
"For now, I wouldn't walk the sheep along a fence – concentrate on getting her to go round the sheep and balance them to you. You can't rush the training – particularly with a strong willed dog, but soon "the penny will drop" and the dog will begin to cooperate, and you'll realise that it was all worthwhile."
It may seem to be taking advantage to continue to work the dog after you can see that it's clearly tiring, but often that last 10 minutes or so of a training session can be the most valuable.
Not only will the dog be slowing down, and more inclined to listen to you, this is your great opportunity to praise the dog. When it stops, goes out wider or is simply nicer to work with, you're able to show how pleased you are and even the strongest-willed dog wants to be praised.
A firm foundation in the basics is vital, and take your time. When problems arise it's helpful to take a good hard look at the dog's work and try to simplify the issues you're having.
Sometimes the dog being too fast; not stopping; "picking off" or "slicing" a single sheep; or gripping are the same issue expressing itself in different ways and the solution is often more simple than you'd expect – you just need to go back to basics.
CLEAR, AFFORDABLE SHEEP AND CATTLE DOG TRAINING INSTRUCTION
JOIN NOW!
The price you pay will not increase while your membership is valid
Over 70 clearly explained, easy to follow sheep and cattle dog training videos for first time sheepdog trainers, farmers, and shepherds. Just £10 per month or £100 per year (choice of currencies for payment). Watch the preview here!
For French, Spanish or English SUBTITLES click "CC" on player.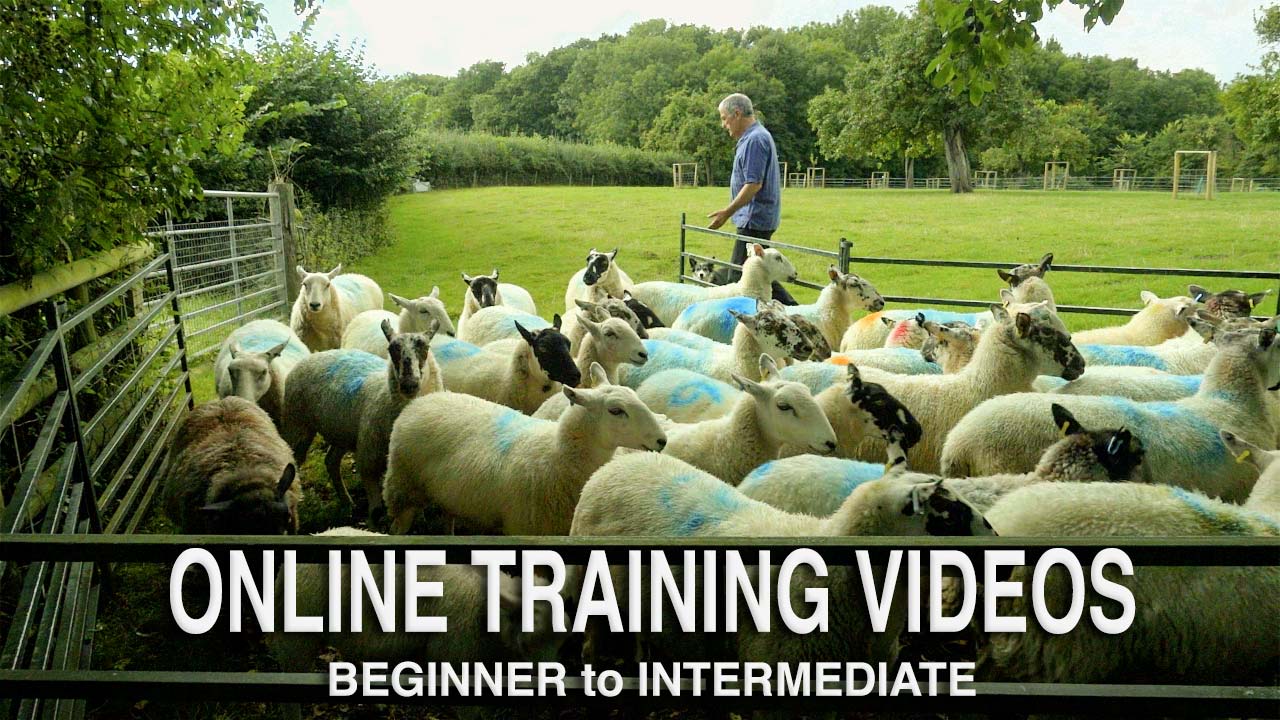 For a very small monthly (or annual) subscription, watch many hours of expertly presented sheepdog training lessons. Not just theory – we show you what should happen, and what to do when things go wrong. Signup now. It's easy to cancel payments at any time and you can continue to watch for the period you paid for.