Training a dog which doesn't want to work. Is there anything you can do to spark the dog's interest? The short answer is "Yes!"
Understanding the possible reasons why the dog won't work is the start to finding the cure. Most non-starters, that is to say dog's which don't want to work stock, can become useful working dogs.
It's disappointing to find that your carefully selected border collie is an apparent "non-starter". But that your dog is reluctant to work sheep or cattle doesn't mean you can't create an interest. As always with dog training, if you understand what's happening, and why, there's a good chance of putting things right.
"Starting a Non-Starter" begins with a look at how the hunting instinct gives us a herding dog. It goes on to explain that instinct could be the reason why some dogs are reluctant to work sheep.
On the other hand, by safely simulating a hunting situation it's possible to trigger the instinct, and so spark the dog's interest in working. Once that's achieved you're on your way to a useful sheepdog. Simple, isn't it?
As with most problems in sheepdog training, it is the owner or handler of the dog who has probably caused the dog to not want to work. Starting a Non-Starter will not only help with training a dog which doesn't want to work, but it will also explain how you can take steps to avoid the situation arising in the first place.
Once you're aware of how border collies learn you'll see how, despite your best intentions, what they learn isn't always what you thought you were teaching them!
How do sheep dogs learn?
Sheepdogs and farm dogs take things literally, and that's both an advantage and disadvantage when it comes to training. Watch Starting a Non-Starter if you have a new puppy and want to prepare it for sheep work. The online tutorial "Sheepdog Selection and Preparation" will also help you to avoid the situation arising in the first place. (The First Steps in Border Collie Sheepdog Training DVD also includes the Sheepdog Selection and Preparation chapter.)
If you are training a dog which doesn't want to work, the two-part "Starting a Non-Starter" is THE place to start; look for it in the Confidence category. Follow this by watching "Starting a Reluctant Dog", where we see Maisie overcoming her initial inhibitions to begin to work fluently around the sheep.
If you prefer (or need) to watch on DVD you'll find "Starting a Non-Starter" on Volume 4 of our DVD tutorial collections. Volume 4 also includes tutorials about stopping the dog, more help with a dog who grips, further instalments in the "Bronwen and Scylla" series, and much more.
CLEAR, AFFORDABLE SHEEP AND CATTLE DOG TRAINING INSTRUCTION
JOIN NOW!
The price you pay will not increase while your membership is valid
Over 70 clearly explained, easy to follow sheep and cattle dog training videos for first time sheepdog trainers, farmers, and shepherds. Just £10 per month or £100 per year (choice of currencies for payment). Watch the preview here!
For French, Spanish or English SUBTITLES click "CC" on player.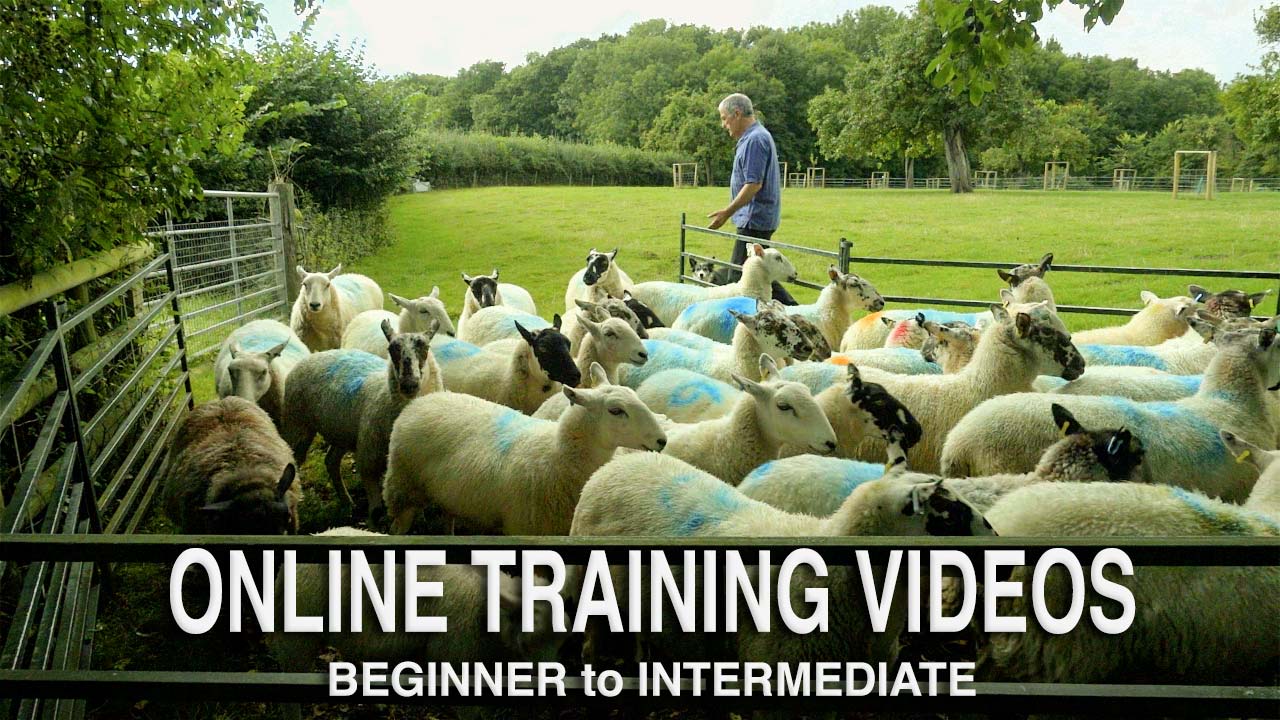 For a very small monthly (or annual) subscription, watch many hours of expertly presented sheepdog training lessons. Not just theory – we show you what should happen, and what to do when things go wrong. Signup now. It's easy to cancel payments at any time and you can continue to watch for the period you paid for.