Find out how to improve your dog's outrun
Three sheepdog outrun training videos, packed with information on how to teach your dog to go out and gather sheep or other livestock.
One of the aspects of sheep work that most demonstrates the joy and convenience of working dogs, is the outrun. When your dog can collect the sheep and bring them to you, it's a big step forward. You'll save your time, your temper and also your legs.
Most dogs thoroughly enjoy this part of their training. Outrun practice is also an excellent way to relieve the tension when training becomes more intense.
Our three Outrun Tutorial Videos show you how to teach the outrun. They also clearly show how to make it longer and wider as the dog's skill and experience grow. As ever, don't skimp on the basics. We have lots of emails as well as general enquiries about the outrun "going wrong at the end". The answer usually simple: Get it right at the START.
The dog's outrun – from start to finish
Part One – is a real training session with a headstrong young farm dog, Jed. It shows how to begin teaching the outrun from the very beginning. Jed also provides us with plenty of opportunities to see how to cope when things go wrong!
Teaching the outrun helps to improve other areas of the dog's work too, including flanking and general control.
Part Two shows how positioning yourself, your dog, and sheep, in relation to each other, is the key to success. When you're working on lengthening or widening your dog's outrun it's important to be in the right place.
Experiment a little, and discover how much control you can have over the path your dog takes on its outrun.
Part Three demonstrates how we use the "Slingshot" technique to encourage a wider outrun. The slingshot relies on the dog's eagerness to do another outrun. It will also help to improve the dog's flanking. Some dogs do the slingshot naturally and some need to be encouraged. Either way though, most keen young dogs thoroughly enjoy doing both slingshot, and outrun. This makes the outrun a great way to relieve the stress of more intensive training, like driving and penning.
You'll often hear that a sheepdog trial can be won at the pen, but it can be lost on the outrun. If you plan to compete, give your sheep dog the best possible chance with a reliable and confident outrun. Andy wrote several blogs about training and working with his dog, Carew. You can read about Carew's increasingly confident outruns here. Better still, watch the movie!
In addition to our sheepdog outrun training videos, if you need more help with your farm dog's outrun, take a look at our FAQs. Stopping at the end of the outrun; Sending the dog from your side; Dog going out too wide. And if you still have a problem, please leave a comment or question on the outrun page.
The Outrun tutorials are in the Outrun category, where you'll also find other relevant training tutorials.
Our video tutorials give members lots of guidance for starting a dog, progressing its training, and dealing with the challenges that arise.
NB: Tutorials are available to paid subscribers who are logged in to their account. There's more information about our sheepdog training tutorials in the video below. Why not register for a free subscriber account to watch a sample tutorial, "Top Tips for Easier Training".
CLEAR, AFFORDABLE SHEEP AND CATTLE DOG TRAINING INSTRUCTION
JOIN NOW!
The price you pay will not increase while your membership is valid
Over 70 clearly explained, easy to follow sheep and cattle dog training videos for first time sheepdog trainers, farmers, and shepherds. Just £10 per month or £100 per year (choice of currencies for payment). Watch the preview here!
For French, Spanish or English SUBTITLES click "CC" on player.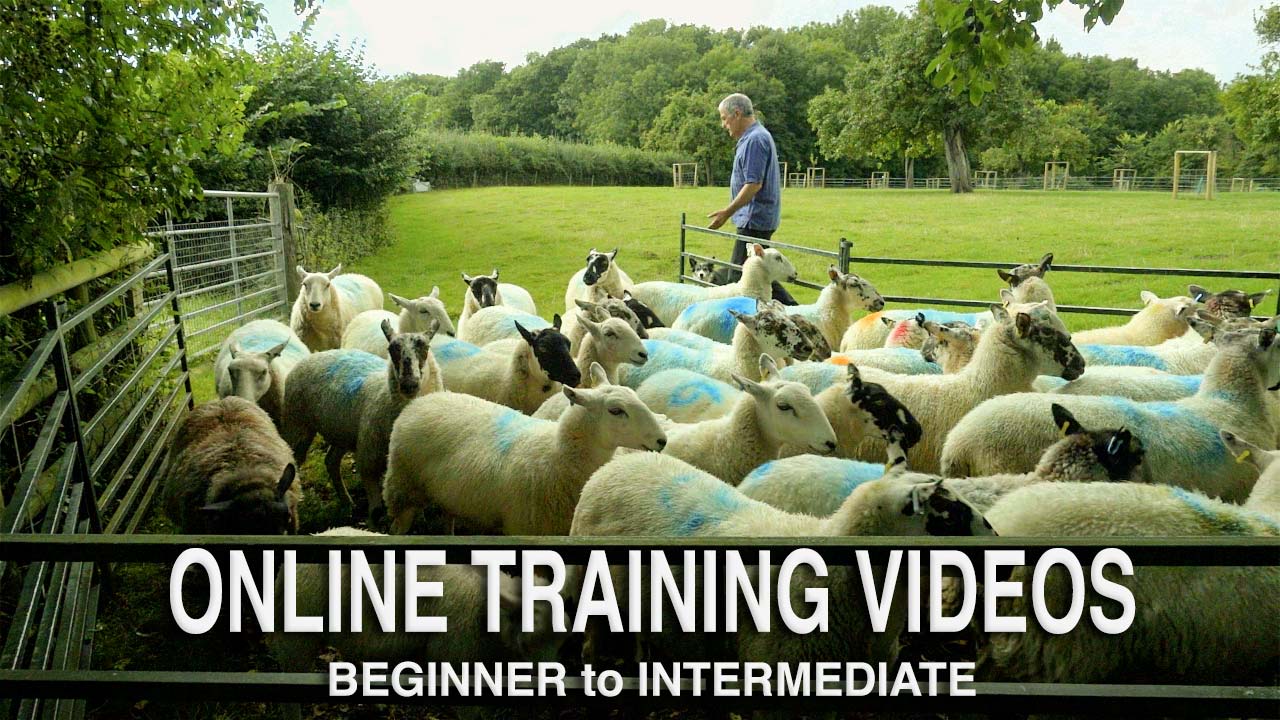 For a very small monthly (or annual) subscription, watch many hours of expertly presented sheepdog training lessons. Not just theory – we show you what should happen, and what to do when things go wrong. Signup now. It's easy to cancel payments at any time and you can continue to watch for the period you paid for.