SORRY, Aanick has been sold
Small but perfectly formed, Aanick's big personality makes up for his lack of stature.
When Aanick was born, on March 17th, he was the smallest (tiniest!) pup in a litter of 11. We feared the worst, but did our best to ensure he had the best start we could possibly give him.
Luckily Aanick was also determined to get the best start he could, and always managed to creep through to the front of the crowd at the milk bar, and find himself the warmest place in the middle when everyone fell asleep.
Aanick has the unique feature of being the only border collie we've ever had who doesn't have a white tip to his tail. This is because his mother accidentally (we hope) nipped it off when he was two weeks old! He still looks lovely of course, and his tail looks completely normal – just a bit short and very black.
Aanick's not much smaller than his litter sister now. He's proving to be a real character who loves to play rough, but equally enjoys "chilling out" on a convenient lap to watch the world go by.
Aanick's parents are Maddie and Ezra. Maddie was bred here from Kay (who features largely in our First Steps DVD) and Oliver.
Ezra needs little introduction. We bred Ezra from our dogs Mel and Eli, and Ezra has produced many excellent agility, working trials and sheep/cattle dogs.
Both parents were bred primarily for sheep work, but temperament is also very important to us. Ezra and Maddie are fun, sociable dogs who love to play and mix with other dogs and visitors.
We actively encourage all of our dogs to play together (when they're not working) and the puppies are allowed to join in with the adult dogs as soon as they feel ready, so Aanick is relaxed and sensible around other dogs.
Aanick was initially weaned onto minced beef, lamb and raw chicken, but now eats a mixed diet of raw meat and dried kibble.
Although Aanick would be suitable for agility, obedience, working trials or would make a lovely family pet in an experienced home. He's already taking a keen and active interest in both sheep and cattle, and with this early enthusiasm he should be easy to train for farm work. Being an amenable and affectionate chap we're sure Aanick would suit a smallholder or a beginner to sheepdog training.
Our puppies are registered with the International Sheep Dog Society, and eligible for registration on the Kennel Club's Breed or Activity registers.
Aanick is vet checked, regularly wormed, and is fully vaccinated. His purchase price includes his ISDS registration transfer and, if wanted, a year's subscription to the online tutorials.
Enquiries by email please, and include a little information about yourself.
BORDER COLLIE SHEEPDOGS & FRIENDS – STILL OFF DUTY! (DVD)
WATCH THIS TRAILER!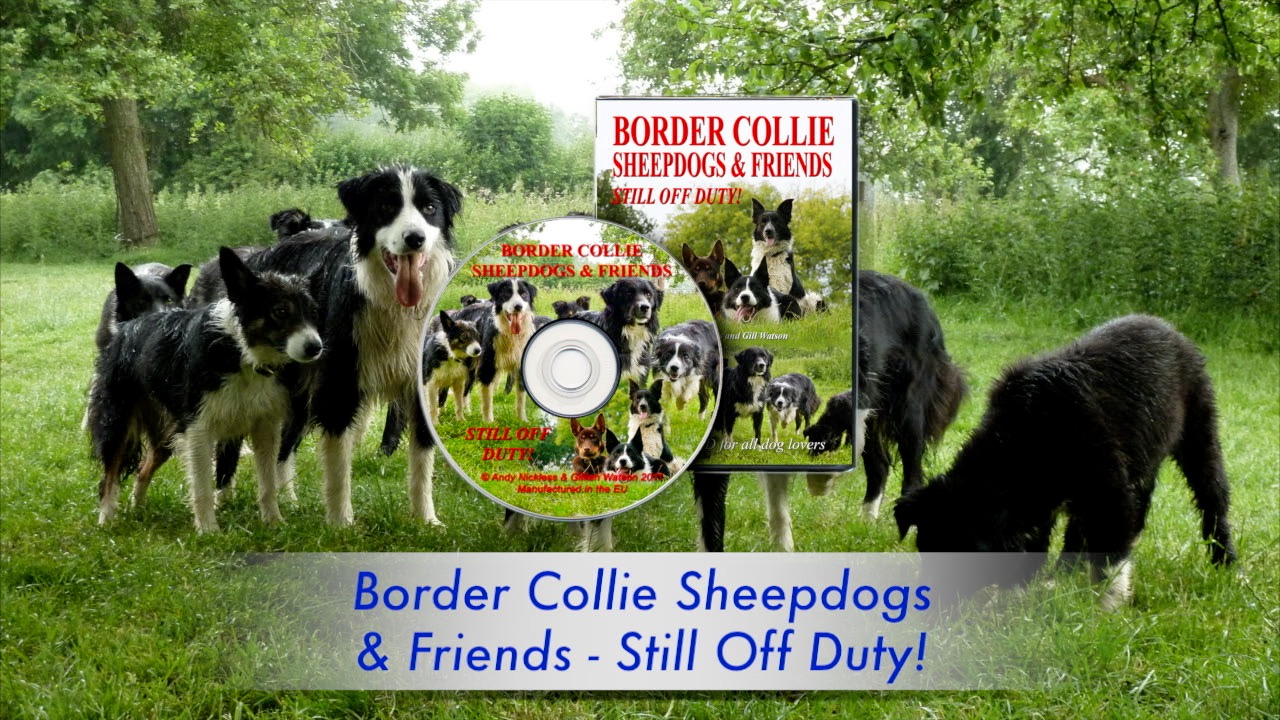 Watch Pearl Glen, Mel and lots of the dogs you saw in our first DVD Border Collie Sheepdogs – Off Duty! PLUS MANY MORE! The DVD is available from our DVD Store – and we automatically ship the correct format for your country. More info.