Tucker's in charge when we collect new puppies
And seems to change from bouncy puppy to calm, sophisticated young "dog of the world" in an instant!
We're told that Kelpies are especially good travellers.
Tucker's already pretty well travelled, within Wales anyway, but we thought we'd give him an extra outing on Monday and took him with us to Brecon. We'd booked two puppies (Border collies this time) and thought Tucker might be a soothing presence for them on the way home.
Tucker took the whole enterprise in his stride.
For the first few minutes after we left home, Tucker eloquently put forward his case for NOT being confined to a cage in the back of the car, but he soon settled down and slept for most of the trip. On arrival at the farm at Cradoc, Tucker looked mildly inconvenienced to have been woken up.
We were met on the yard by a lovely tricolour collie and a Kelpie bitch. Tucker paid little attention to the collie, but he struggled furiously to leap out of my arms to get to the Kelpie. There's obviously something appealing or familiar in a Kelpie that Tucker doesn't recognise in a collie.
That particular Kelpie just happens to be Tucker's grandmother, but surely neither of them knew that?
It took me far longer to leave the puppies than I'd expected. We'd booked a female puppy from each of two litters. One litter had only one bitch, and the puppy from the other litter I'd seen at 4 weeks and instantly picked her out (smooth coated, very black, with prick ears. Naturally.) There wasn't any reason to linger, but it seemed that, regardless of whether they were male or female, there wasn't a single puppy I was prepared to leave behind.
Finally, drawings done, pedigrees compared, and anecdotes exchanged, it was time to go. Tucker didn't turn a hair when we lifted the girls (currently named Del and Jazz) into the cage with him.
They all seem to have travelled beautifully together, but we don't know what Tucker said to them to keep them so quiet. Possibly he warned them about Alfie, as they're extremely respectful of Alfie when he stalks past them through the porch.
That could just be due to the Chihuahua's natural air of authority, of course.
Monday was a windy, rainy and sometimes sunny day, and this was the fabulous view that met us as we drove away down the farm drive. Imagine waking to see this – every morning!
BORDER COLLIE SHEEPDOGS & FRIENDS – STILL OFF DUTY! (DVD)
WATCH THIS TRAILER!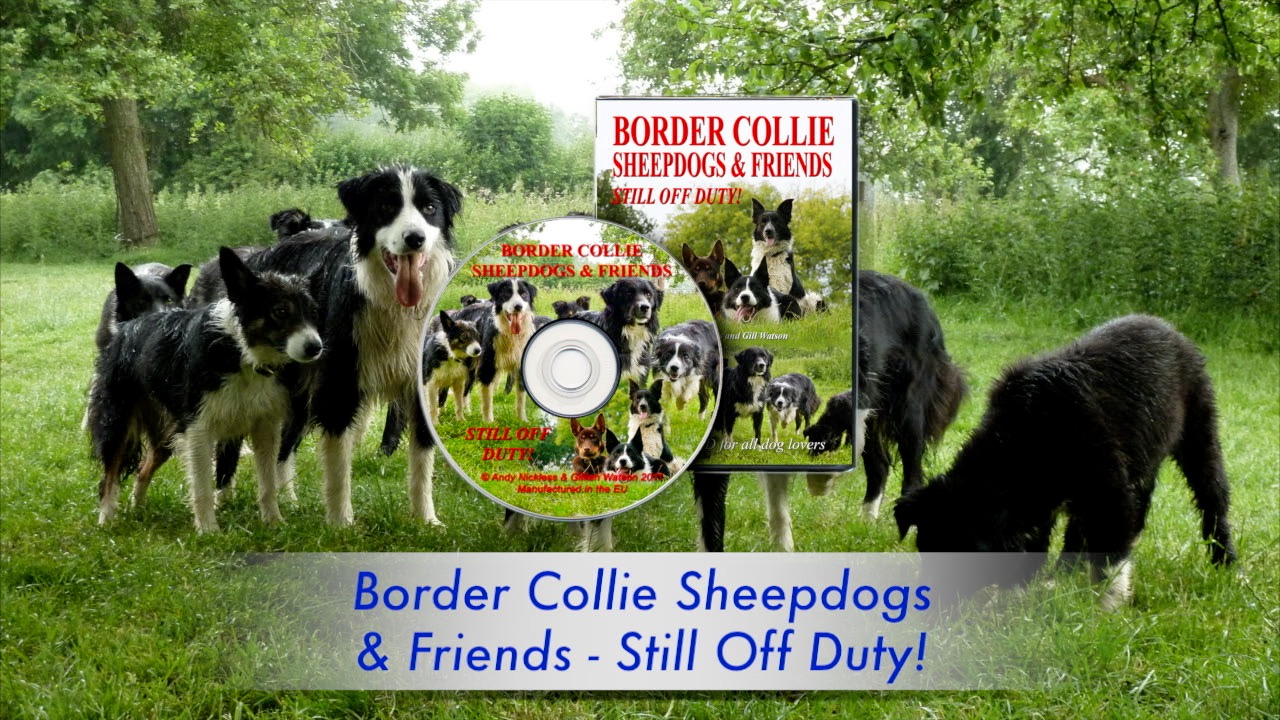 Watch Pearl Glen, Mel and lots of the dogs you saw in our first DVD Border Collie Sheepdogs – Off Duty! PLUS MANY MORE! The DVD is available from our DVD Store – and we automatically ship the correct format for your country. More info.