Isla's a complete "nutcase" but all the same, we're very fond of her.
When she came to us in the spring of 2014 she was as white as snow, apart from her face and a spot at the root of her tail, but now her body's covered in "naughty spots", and quite rightly too.
One of the things that we love about Isla is that she's always ready to play with new dogs and especially with puppies. She's an expert at knowing just how hard or gentle to be and we're often alarmed to see a puppy apparently being "mauled" when in fact, it's all show and she's actually being very gentle – teeth or paws stopping just short of causing any pain or discomfort.
She's not so gentle with the sheep though. At twenty months old, and admittedly not having had as much training as she ought, she's showing signs of becoming a really good, powerful sheepdog, but at times can get too rough with her charges. She'll settle down though.
Isla's brother Archie is working sheep on a farm on the Isle of Wight – so if you're over there, look out for a chunky sheepdog with a predominantly white curly coat and a black head. Sybil went to work sheep for one of our Sheepdog Training Tutorials subscribers! Both dogs are doing very well.
---
We're still looking out for a Kelpie puppy or young dog!
Please read the blog below and let us know if you know of a Kelpie pup or young dog that has not begun training yet. We had lots of response to yesterday's blog and we're probably sorted for next year, but we'd like to get something sooner if possible. STRICTLY for training as sheepdogs. They MUST be from very good sheep-working parents. Contact us
---
WATCH THIS TRAILER!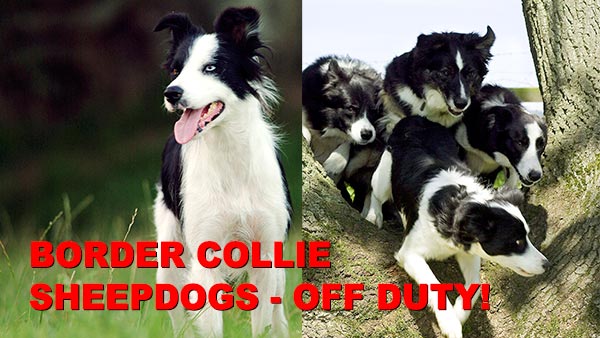 Watch Pearl and our other dogs in action on this preview of our first DVD Border Collie Sheepdogs – Off Duty! (You'll love it.) The DVD is available from our Online DVD Store. The price includes shipping worldwide – and we automatically ship the correct format for your country. More info.