Does dog language have accents and dialects?
It's a while since we introduced a new dog that wasn't a Border collie.
Now we've added the Kelpies, William and Tucker, to the crew, it's fascinating to watch them finding their way around the collies – and vice versa.
We've learnt that collies have their own way of playing, and the other breeds we've kept (deerhound, lurcher and Great Dane) haven't found it easy to be accepted in the collie games. The collies haven't been aggressive, just indifferent.
In fact, the deerhound lurcher cross, Eris, found a better-suited playmate in the diminutive Chester than she ever found amongst the collies.
I know that lots of people are now shouting at the screen that their collie plays with the poodle/labrador/Komondor or whatever, and I'm sure they do, but I'm talking about collies who have lots of collie choices in playmates before they need to try another breed.
William arrived the day before Tucker, and was very much the New Boy at the back of the pack when Tucker turned up. Yet when I carried Tucker out into the field that evening, William was the dog who came forward to say hello. He jumped up to the puppy and seemed genuinely interested in him, whereas the collies dismissed Tucker with a cursory sniff (if any attention at all).
William is having some trouble finding someone to play. The obvious choices, Isla, Odo, Jet and Scylla, have been very disinterested and even suspicious of him; they don't seem to understand his playful moves and pounces, and find them threatening.
The tiny Tucker, however, was immediately attracted to William and despite the height/weight difference have become firm friends. It's a delight to see William doing all his best moves on Tucker; posing and then skipping over to him to just lightly tap him on the head, or growling and pretending to bite and wrestle with him. Tucker loves the attention, and to see them curled up together afterwards, or fast asleep with Tucker draped across William's back, is a joy.
William becomes more a part of the pack every day (helped by giving him time with just one or two dogs, as well as the group runs in the morning and evening) but it does seem to be the case that Kelpies and collies have different dialects. Or am I reading too much into it?
BORDER COLLIE SHEEPDOGS & FRIENDS – STILL OFF DUTY! (DVD)
WATCH THIS TRAILER!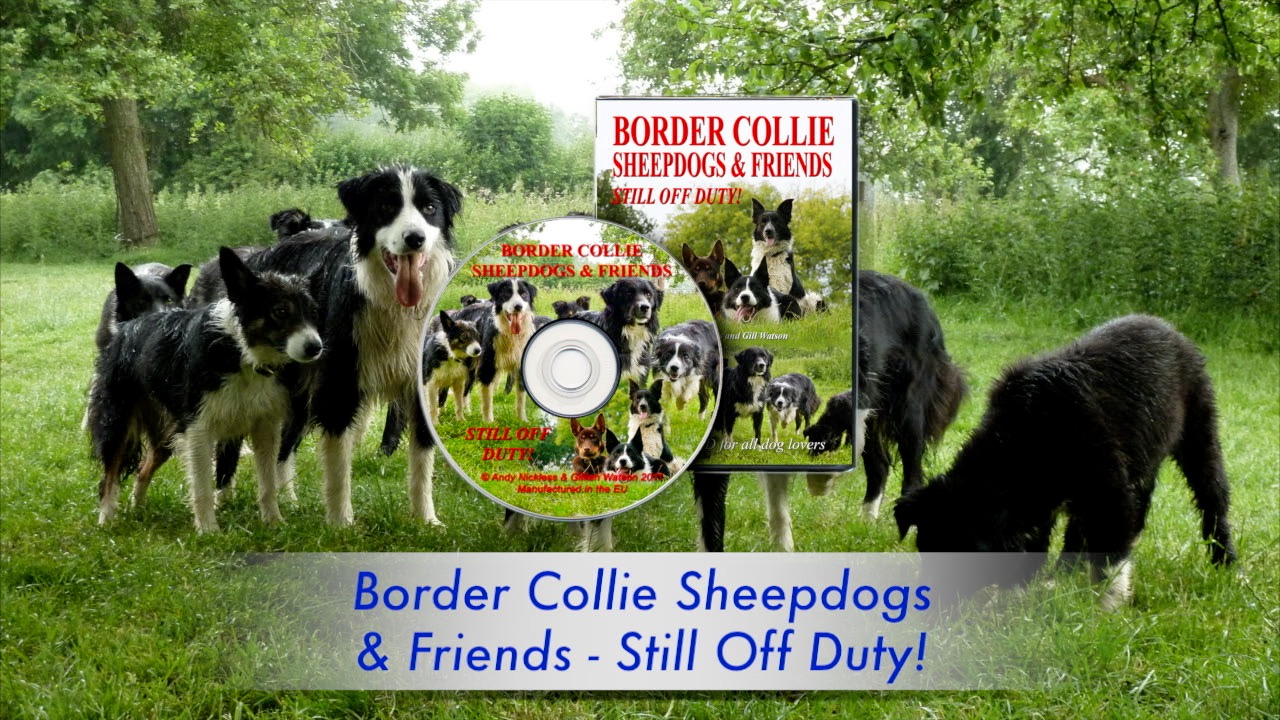 Watch Pearl Glen, Mel and lots of the dogs you saw in our first DVD Border Collie Sheepdogs – Off Duty! PLUS MANY MORE! The DVD is available from our DVD Store – and we automatically ship the correct format for your country. More info.