Jet's one of our favourite young sheepdogs but she might even be part-cat!
Tall, slim, mostly black, and very fast. That's how we think of Jet. She gets her tall and slim stature from her father, Oliver and her pricked ears from her mother Kay, but other than the ears, Jet has very little in common with Kay.
Kay's more of a short, wide shape, with a rough tricolour coat, whereas Jet's coat is much smoother, and while Kay has absolutely no aspirations towards leadership in the pack, Jet's definitely one of the senior dogs. She doesn't abuse her seniority in any way, but she's quick to deal with any other dog which might get ideas above its station.
Jet's herding is coming along nicely too. She's not highly skilled yet, but can be relied upon to keep her sheep together and take them where her handler wants them to be. She has a nice steady pace, but takes no nonsense from the sheep. They go where she wants them to go!
On peculiarity that Jet has, is that she seems to be part feline! While the other dogs are at play, chasing frisbees and each other all over the field, Jet can often be seen stalking, just like a cat in the more overgrown areas. She'll creep along, staring at the ground in super-slow motion and occasionally she'll pounce in a very cat-like manner. It's not just show either. On more than one occasion, Jet's come back to us, carrying a mouse or shrew.
---
WATCH THIS TRAILER!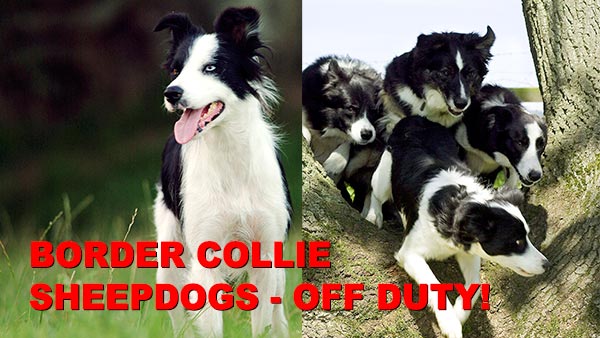 Watch Pearl and our other dogs in action on this preview of our first DVD Border Collie Sheepdogs – Off Duty! (You'll love it.) The DVD is available from our Online DVD Store. The price includes shipping worldwide – and we automatically ship the correct format for your country. More info.