Puppies everywhere!
Mel's pups are having a wonderful time now. They're into absolutely everything and making lots of noise. Every time we want to train a dog, we have to catch the pups and put them away because they want to join in.
It's not good to let pups loose around sheep because they may become frightened and the fear can live with them for a long time.
Puppies for sale!
We have some younger pups (male only) available from another litter. These are also from superb sheepdog trials lines and will be ready to leave in a couple of weeks' time. These "high-drive" pups should make excellent sheepdogs, of course, but they also excel in agility, flyball and working trials.
We don't normally export puppies overseas – but if you have a proven successful record in a dog activity, we may consider your application. You must be prepared to collect the puppy from us though.
DVD News – meet Max.
As you know, we're working on our next Sheepdog Training DVD production just now (that's why the blog entries are so scarce at the moment). Amongst many other things on the new video, I want to show how to cope with a dog that's really aggressive with sheep. A lot of beginners give up with dogs like this because they don't know how to control the dog (and protect the sheep).
It's not that difficult when you know how to do it, but of course, you must protect the sheep. It's a good idea to use sheep which have thick fleeces, so that the dog will grip the wool, rather than the sheep's skin.
I was looking around for a young dog which would fit the bill and eventually found Max. When Max's owner said he'd "grip for fun" they meant it. He was horrible.
Max (see pictures) is under one year old and loves people and other dogs. When he plays with puppies, it's a joy to watch. He'll roll onto his back and pretend to be the victim while the pups jump all over him.
When I took him to sheep though, he was very nasty indeed – gripping the sheep at every opportunity. Fortunately, he responded very quickly to training and we have recorded his progress from the start. Now Max looks as though he'll become a really useful dog. He's beginning to flank out wide and stops (reluctantly). He won't walk away from the sheep yet, but that will come very soon how that we have him under proper control. More news of Max soon.
Reduced training course dates.
Because we are so heavily committed to production of the new DVD, we have reduced the number of training courses throughout the summer. This will not affect anyone who has already paid for either a Sheepdog Training Course, or a Sheepdog Experience, all of which will be honoured as normal.
BORDER COLLIE SHEEPDOGS & FRIENDS – STILL OFF DUTY! (DVD)
WATCH THIS TRAILER!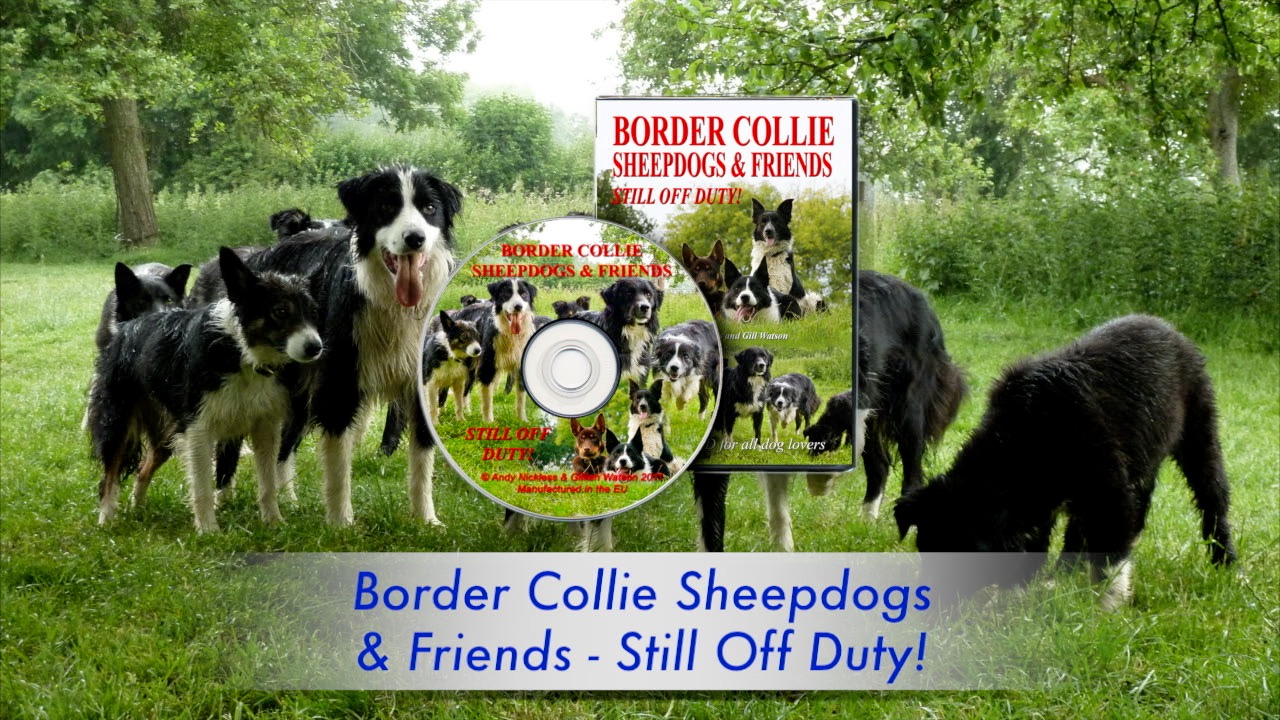 Watch Pearl Glen, Mel and lots of the dogs you saw in our first DVD Border Collie Sheepdogs – Off Duty! PLUS MANY MORE! The DVD is available from our DVD Store – and we automatically ship the correct format for your country. More info.