OUR LATEST TUTORIAL – Bronwen & Scylla, Part 5
In part five of our series comparing the training of litter sisters Bronwen and Scylla, we see the two facing the challenge of new, and "undogged" sheep. Some of the results are predictable and true to form.
Scylla has an almighty charge and scatters the sheep in all directions causing four to exit the ring but once under control, she was impressive at times – particularly at keeping the sheep off the hurdles, but her session ended prematurely when a sheep collapsed with stress exhaustion.
Bronwen's performance was erratic – largely because she was distracted by the close proximity of some inquisitive cattle.
Some terms used in this video:
FLOCKING INSTINCT


A powerful defensive instinct of sheep used as protection against predators. At the first sign of danger, they run together and form a tight bunch, if possible sheltering in a corner or near bushes or undergrowth for additional protection.

TAIL


When a dog is working with its tail in the air, it's a reliable sign that the dog is nervous or excited. Usually, the tail will be lower as the dog's confidence increases.

DOGGED SHEEP


Sheep that are not used to dogs are often terrified of them. The more erratic the dog's work, the more frightened and panicky the sheep will be. When sheep get used to being worked with dogs, they become steadier. These are known as "dogged" sheep. In extreme cases, sheep can be so indifferent to dogs, they become difficult to move.

BALANCE


The position the dog needs to be in, to hold the sheep where the handler wants them. Often during training, the handler wants the dog to hold the sheep to him or her, and the "point of balance" will be somewhere on the opposite side.

GRIP


When the dog bites a sheep, it's politely referred to as "gripping".

FLANKING


The dog going round the sheep is known as "flanking".

ONE SIDED


Just like humans, most dogs are left or right-handed particularly when they begin training. Until this is trained out of them, it can affect the dogs work because they don't perform well when going in the direction they don't like.
CLEAR, AFFORDABLE SHEEP AND CATTLE DOG TRAINING INSTRUCTION
JOIN NOW!
The price you pay will not increase while your membership is valid
Over 70 clearly explained, easy to follow sheep and cattle dog training videos for first time sheepdog trainers, farmers, and shepherds. Just £10 per month or £100 per year (choice of currencies for payment). Watch the preview here!
For French, Spanish or English SUBTITLES click "CC" on player.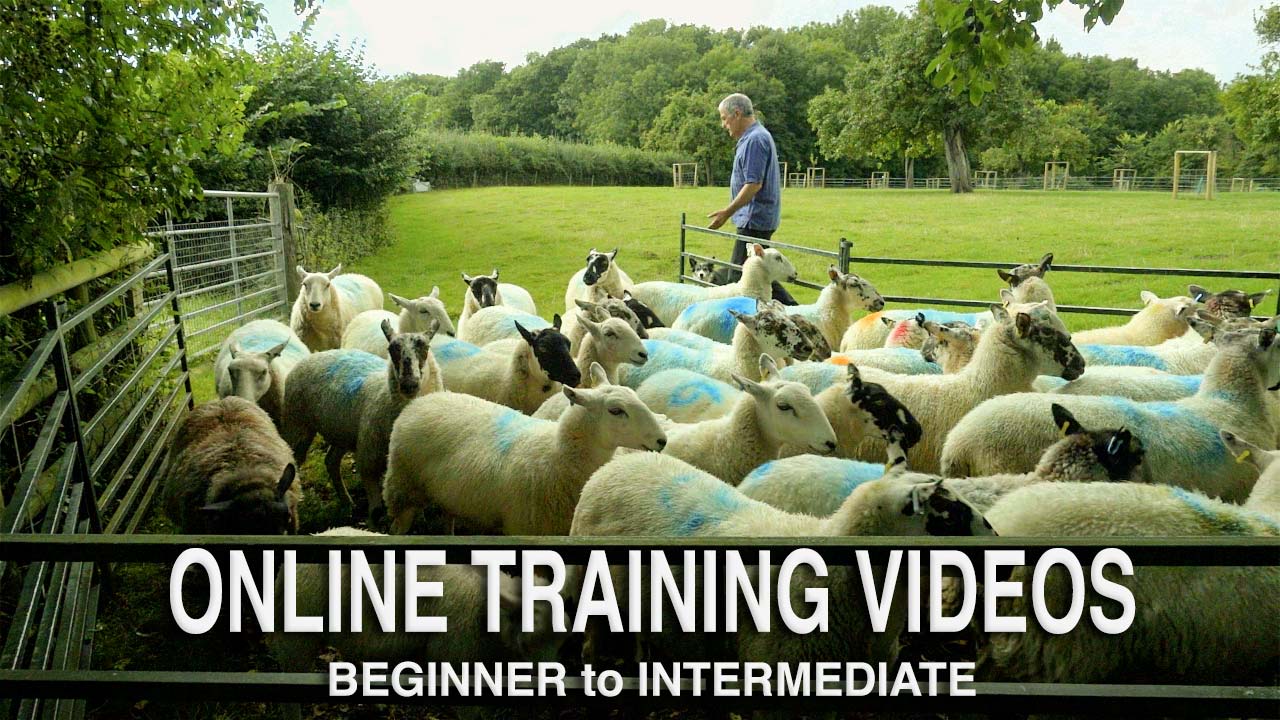 For a very small monthly (or annual) subscription, watch many hours of expertly presented sheepdog training lessons. Not just theory – we show you what should happen, and what to do when things go wrong. Signup now. It's easy to cancel payments at any time and you can continue to watch for the period you paid for.