Kay and Carew's exploits at Evesham Sheepdog Trials
Saturday 10th August was the date of the Local Novice section of the Vale of Evesham's annual sheepdog trial at Pebworth in Worcestershire.
I had already sent in an entry for Carew and Kay for this friendly trial which is held on the afternoon and evening before the main Evesham National Open trial at the same venue.
We arrived early, and I booked slots for Kay at number three, and Carew seventh in the running order.
The sheep were tricky but perfectly manageable if the dog gave them room, and as long as you didn't allow them to stop.
From watching the runs of the two competitors before Kay's turn, I'd noticed that whenever the sheep stopped, they were likely to turn and challenge the dog.
Overall, Kay had a good run. She was a little difficult to stop but she kept the sheep moving nicely and they went cleanly through all the obstacles. We managed to shed them but (as was the case with most of the other competitors) we couldn't quite get them into the pen!
The worrying part for me was that Kay became very tired part-way through the pen section. She even set off towards the car at one point, clearly in search of water. I quickly called her back, and like the little trooper she is, she carried on working, but I was very relieved when the judge (Terry Cashmore) called "Time".
If you're "Timed Out" in a sheepdog trial, you retain whatever points you've earned on the run so far, but obviously any further sections that you don't complete, are ignored.
If you retire, you don't score any points at all, so you can't be placed in the results.
In the more serious "Open" trials, the handler is expected to retire if their run is going really badly, but in Local Novice trials, where expectations are a little lower, its usually best to keep going if you can.
This proved to be the case with Kay's run at Evesham, because we were placed 3rd!
I once retired at Mathon trial when (after arriving late, and only just managing to get a run) Glen and I had put in a pretty good performance, but were unable to actually get the sheep into the pen and complete our run.
Dear old Glen was superb at penning. His stylish, gentle approach and perfect control often caused the spectators to go quiet and watch, but on this occasion, the sheep just kept going round and round the pen.
I became embarrassed by our prolonged failure, and to avoid further humiliation, held up my hand to signal to the judge that I was retiring.
We took the sheep off the course and put them into the "exhaust pen", and as far as I was concerned, that was the end of it.
Imagine how I felt when the judge told me later that if I hadn't retired, we would have won! Our run was not great because we didn't actually complete the course, but clearly it was better than all the others! If only I'd realised!
Kay had done her very best during her run at Evesham, but Carew's effort was not good. She was clearly not "herself", nearly crossing over on her outrun before she spotted the sheep and widened back out, and then she was feeble and indecisive. She went through a phase like that some months ago, and I realised the cause must be the same. Carew is coming into season.
We promptly retired. There was no point in going on when Carew was so confused – she wouldn't gain anything positive from the experience. This is the one disadvantage of female sheepdogs when compared with males, but of course, if a female is in season, it can affect the work of a nearby male dog, too!
The work of some females is unaffected by their seasons, but others often become over-sensitive – and sometimes confused.
As with the Saturday Local Novice class, I'd already entered both Kay and Carew in the Evesham "Open" trial the next day, but clearly there would no point in running Carew.
When I got the news of Kay's third place though, I decided to take her, because she would know the course and the sheep, and if we went early in the morning, she could get a run while the temperature was still cool.
I needn't have bothered though. From the moment I first took her out of the car when we arrived, Kay was clearly in a high state of excitement.
To calm her down, I took her away from the trials course into an adjoining field, and we walked around for a while, but she continued to look around excitedly for sheep.
My fears were well founded. On her run, Kay was not good. I had to really shout at her to get her to stop at all, and even when she did stop, she refused to stay where she was.
Having said that, we managed to get the sheep through all the gates (somehow) but when it came to shedding the sheep, she was virtually unmanageable. Flanking too tightly, and not stopping where I wanted her to.
As if that weren't enough, three times the sheep parted and we had an opportunity to shed – but when I called her, Kay didn't come through. That was enough for me.
We retired – but as though to add a final insult, Kay took the sheep off the course beautifully – jauntily driving them ahead of me and into the exhaust pen!
Who was it that said "Never work with children or animals"? Never mind, at least we picked up third place in the Local Novice, and I'm very pleased with Kay for that.
This was only her third sheepdog trial, so she can be forgiven for being excited the next day. Hopefully, with more experience of trials, the novelty will wear off and she'll be more consistent.
I'm sure that once Carew's hormones have settled down, she'll go on to be a trials winner. She seems to have the perfect temperament for it (most of the time)!
---
FROM CHAOS TO CONTROL!
2xDVD set. Watch the Preview Here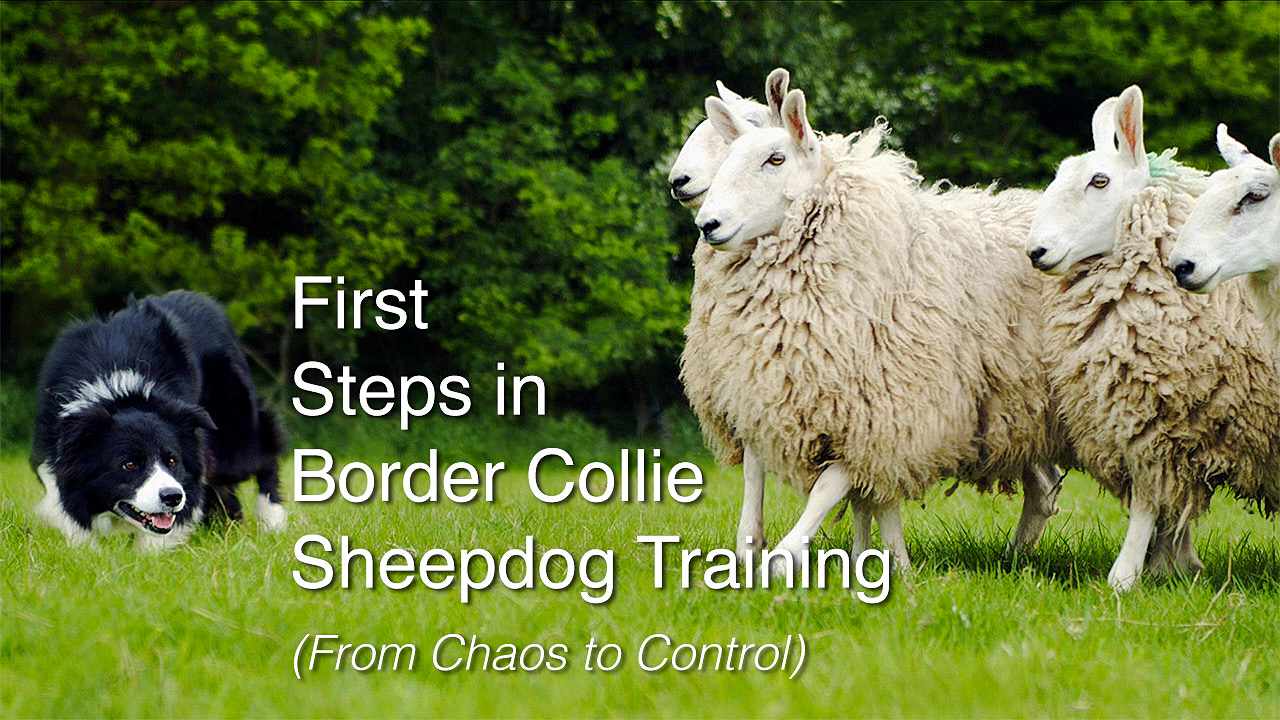 Learn how to train your first sheepdog with the 2xDVD set that shows sheepdog training as it really is! As well as clear instruction on what to do, you'll see things going wrong and how to put them right. More info
We automatically ship the correct format for your location. Choice of six currencies to pay with! More info
---