…and now one of them's left home!
This morning the first of Meg's puppies to fly the coop left for an exciting new life – today Norfolk, tomorrow the world! (Well, the world may have to wait a year or two, but we're entitled to our expectations.)
We're delighted that Chai has joined Denise Wilkinson's agility team. Denise had Tinker Tia from us, a Pearl and Glen puppy, nearly 10 years ago (frightening thought, I'd have guessed 5 years, 6 at most) and has achieved great things with her, including qualifying for the World Agility Championships. (And just to prove it wasn't a fluke, Denise had the same level of success with her next dog!)
This makes Denise the agility equivalent of Aled Owen, who's won both the World Trial and Supreme International on several occasions with several different dogs. Any one of us (with a great dog and greater luck) could theoretically win once, but it takes a special handler, and supreme dedication, to make it a habit!
Denise first saw the puppies at around 4 weeks of age, when they really weren't doing anything that could help you choose one. At the time, a little dark-faced bitch stood out for her bold approach and superior co-ordination (she seemed able to run in the direction she intended, most of the time – something her siblings could only aspire to) and was quickly named Dash, but puppies change from day to day. Before the pups were born we'd decided that Denise should have her pick of the litter, so she didn't have to make any choices there and then.
Of course, Andy and I were watching them all the time, wondering if we'd recognise The Special One.
I was pretty sure it would be a toss up between dark-faced Dash, and a larger, hairier bitch who'd stood out for me from a very early age. She seemed to be the female equivalent of her big brash brother, Burgo – first into everything (my affections included). As the days wore on, Dash and Un-named Pup were neck and neck. It was going to be an interesting morning.
But parents, of children or puppies, are not good judges of their offspring it seems.
Denise arrived, and once she'd been thoroughly mud-spattered and soiled by all the other dogs we took the puppies into the garden, so she could have a proper look and get to know them.
My two "dead certs" came through the gate: Un-named went off to find a way out into the field, and Dash made a dash (as she would) into the porch to look for Carew, or stray food, or to get sworn at by Alfie (which is what she actually got). These weren't the responses I'd expected.
I found some toys (if you count an aerosol cap as a toy, but there's not much left after the Border Jacks have done one of their "kill it and hide it" operations) and retired to watch from a distance.
A bitch puppy, whom I hadn't singled out, was making it quite clear that the only game she'd ever wanted to play was a determined tug-of-war with this very nice lady who seemed like loads of fun. I was disappointed that my two "certs" seemed so lack-lustre in comparison, but I left Denise in peace.
A while later I looked out to see Denise running across the lawn, with tug-of-war puppy bounding after her. The puppy was obviously thoroughly enjoying herself and ignoring all the other puppies while looking up, all the time, into Denise's face with something approaching hero-worship. The choice (though by whom?) had been made.
We'll be following Denise and Chai's progress with great interest over the forthcoming months and years. As with any of our dogs and puppies, whatever discipline they work in they're still "our babies" and we love to hear from them.
Tia had come along to keep Denise company on the long drive, so she was brought in for an impromptu photo shoot. Looking at Tia's face, Andy and I could see both Glen and Pearl in her features (and hear the authoritative Pearl in her bark).
It made me wish more than ever that we had some of Glen's descendants here, but to know that some have been high achievers, some have been consistent sheep workers, and all have been much-loved, should be compensation enough.
NB Glen and Pearl have their own chapters in our first DVD "Border Collie Sheepdogs – Off Duty!"
---
FROM CHAOS TO CONTROL!
2xDVD set. Watch the Preview Here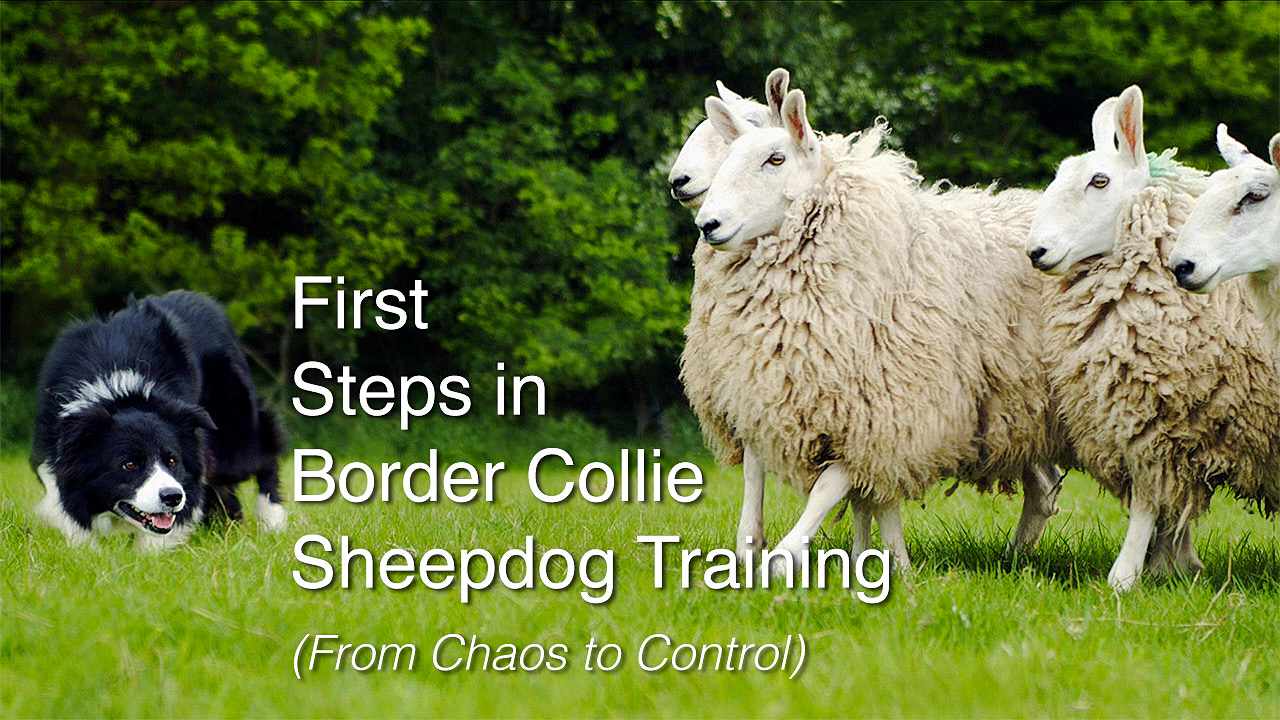 Learn how to train your first sheepdog with the 2xDVD set that shows sheepdog training as it really is! As well as clear instruction on what to do, you'll see things going wrong and how to put them right. More info
We automatically ship the correct format for your location. Choice of six currencies to pay with! More info
---