Kay and Bronwen both look after their own interests at Dean Farm, in totally different ways
Whenever I take dogs to Dean Farm to gather sheep for John, the one thing I can count on is that things rarely go smoothly, and today was no exception. Since we parted with Carew a few weeks ago, I've realised more and more, how lucky I was to have such an exceptionally capable dog, but the fact is, she was wasted here. We simply don't have enough work for a dog of her capability.
Kay's a great little dog with bags of enthusiasm, but as she gets older she's becoming increasingly reluctant to confront aggressive sheep. The sheep learn this, and some of the Dean Farm ewes know they can get the better of Kay if they want to. It's fine when she initially gathers them in the field, but getting them through gateways, down the long farm drive and into the handling area can be difficult.
If I'm close to her, Kay will push the sheep with enthusiasm. Here, she's right up behind them, pushing them down the drive. As long as they all keep moving, everything is fine.
Here, the sheep have stopped to eat the fresh vegetation on the sides of the drive and believe it or not, the lamb on the far right of the picture has challenged Kay, and she immediately turned away.
Once the sheep learn that they can do this, it can become a real problem for the dog, so I quickly moved forward and helped Kay to get the sheep moving again.
As we got closer to the buildings though, a ewe tried very hard to frighten Kay away. I had to intervene several times to turn the sheep back.
If you look closely at her face markings, you'll see that this is the same ewe that's looking at Bronwen in the picture at the top of this page. She's defending her lamb – what a great mum!
I put Kay back in the 4×4 and brought Bronwen out – partly to give her some experience of working with sheep around buildings and yards, and partly because I knew she'd stand up for herself better than Kay had.
I was right. Bronwen was much more assertive with the sheep, but it came at a price. The same aggressive ewe very quickly knocked Bronwen down quite hard, and she was clearly frightened by the incident. She kept working though, and completed the job without further incident.
I was very pleased with Bronwen. She was clearly enjoying her work as we took the sheep back up the drive to their field but once we got back to the car she realised I intended to put her away, so she ran off up the drive again! I was quite shocked. This is not like Bronwen at all. I called her without a hint of annoyance in my voice, but she was defiant. She noticed some ewes and lambs in a field alongside the drive, and sped off across it to gather them.
It was only when I went into the field with Kay that Bronwen came back to me and I felt cross with her but I tried not to show it.
There will be a good reason why Bronwen ran off. She's in season at the moment, so that's probably a factor, and I know she doesn't like travelling in a vehicle either, so that's another consideration, but I think she simply didn't want to stop working.
Bronwen has the highest drive of any dog we've had here for a long time, so much so, that several months ago, we had to put bars over the top of her (1.8 mtr high) run to stop her jumping out!
Time will tell just what made her run off. I'm certain it was nothing to do with being knocked down but of course that's something I need to be more careful about in future.
A dog running off like that can be a real problem. There's a busy railway running through Dean Farm and even though it's well fenced, Bronwen wouldn't think twice about jumping it. That could be disasterous.
---
FROM CHAOS TO CONTROL!
2xDVD set. Watch the Preview Here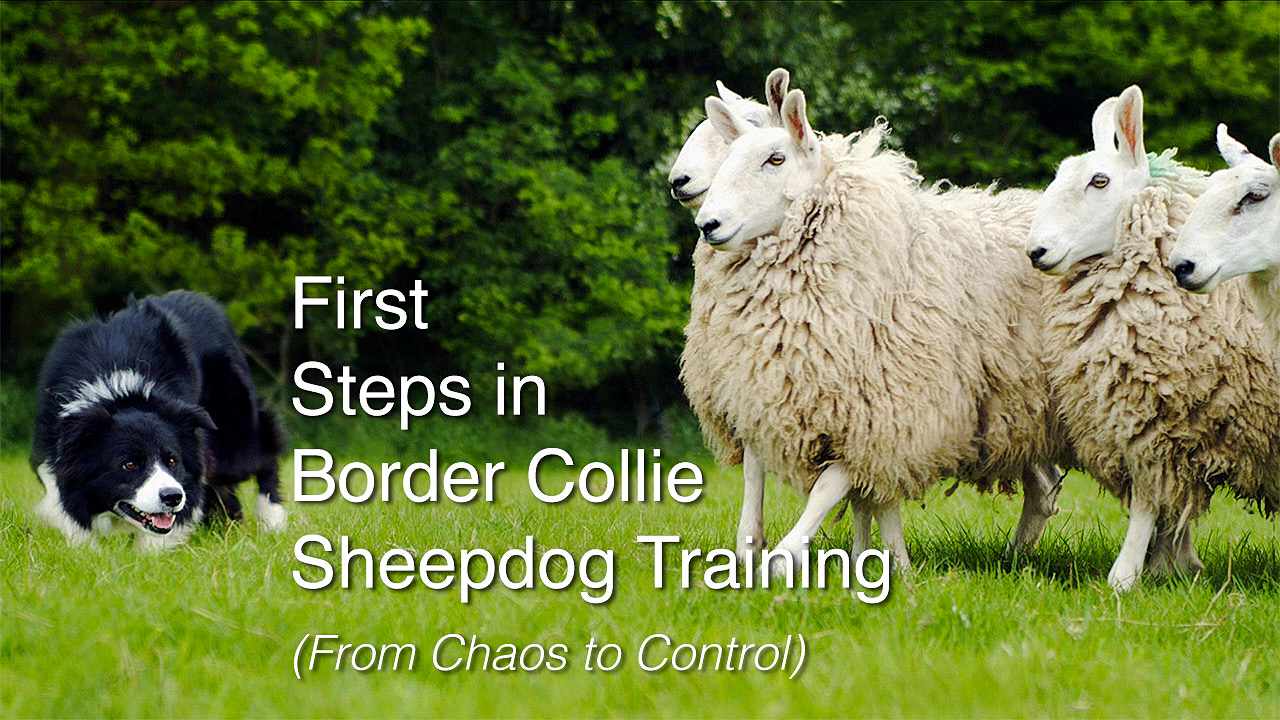 Learn how to train your first sheepdog with the 2xDVD set that shows sheepdog training as it really is! As well as clear instruction on what to do, you'll see things going wrong and how to put them right. More info
We automatically ship the correct format for your location. Choice of six currencies to pay with! More info
---