While I write this, Chester is sitting on the window ledge, watching the dogs in the yard and shouting out encouragement or disapproval as the occasion demands. Mainly disapproval.
I know I said we'd have puppies in January, but it doesn't mean there aren't puppies here now. The current banes of my life are a bumbling 5-month old called Tony, Mel and Glen's youngest daughter Mog – she's about 5 months old, and Maddie and Glen's daughter Maeve who, it seems to me, has been here for ever, but she keeps getting bigger so she must only be about a year old. Oh yes, and Doris. Doris is a newcomer, and she's about six months old now. Tony has a smooth coat, the girls all have rough coats (anything tidy would be a waste) and all four are tri-coloured collies; it's so monotonous.
Me? I'm a warm mahogany with rich autumn gold highlights and a charcoal mask. Sometimes the collies have charcoal masks but, in their case, it is ACTUALLY charcoal.
It's not that I mind puppies; it's just that they're uncoordinated – they have no idea where their great clumsy feet are going, and I challenge any civilised dog to keep his fur clean in weather like this, surrounded by a mob like that. Now I'm as practical about mud as the next dog, but I prefer to be the one who chooses when I'm to get covered in it.
Maeve and one of the boys, Eli, have always been best mates and this morning Mog wants to join their gang. Mog doesn't know the rules of Big Dog games yet (I'm assuming they have rules?) so Maeve has recruited Mog against Eli. Mog hangs on his ear to slow him down, while Maeve swings about on his tail, and they all go hurtling around the place until either Mog or Maeve loses her grip and spins into the mud. It doesn't matter which one lands first because the other one joins her in any case. Then Eli piles in on top and the whole thing starts again. The only clean bit of those dogs is the grin.
I'll say this for Border collies – they really can smile. Of course, most of the time they haven't a clue what they're smiling about.
---
WATCH THIS TRAILER!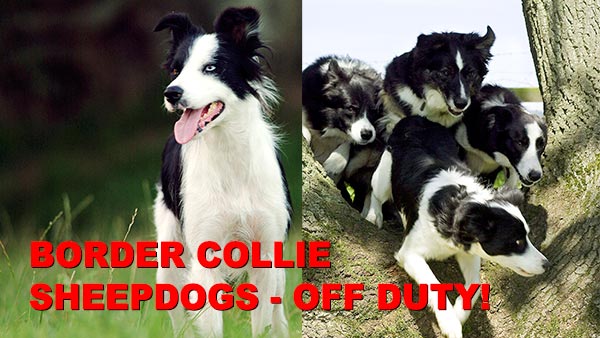 Watch Pearl and our other dogs in action on this preview of our first DVD Border Collie Sheepdogs – Off Duty! (You'll love it.) The DVD is available from our Online DVD Store. The price includes shipping worldwide – and we automatically ship the correct format for your country. More info.