The dogs found this buzzard in our orchard this morning – we hope it's OK
Buzzards are a very common sight near our house. I think the most I have ever counted was thirteen, but that was just one occasion. Normally there are one or two around the orchard, and they take very little notice of the dogs, only lazily flying to another nearby bough if one gets really close.
This morning was different though. I spotted Will, our oldest Kelpie very close to a buzzard which was on the ground. What attracted me was the massive wings as the bird put on a display to warn the youngster off. Will took no notice though, and continued to stare at the bird which was perching on a log on the ground.
Worried that the dogs might harm the buzzard, which appeared unable or unwilling to fly, I took the dogs back to the yard and put them away in their pens. I explained to Gill what I'd seen, and after grabbing my camera from inside the house, the two of us walked back to the part of the field where I'd seen the buzzard, and it was still there.
I couldn't understand why the bird had not taken off, and I still think it must have been unwell, or at least, exhausted.
I began to take photographs as I very carefully approached the bird, but still it remained in place until we were within two metres of it. Only then did the creature fly slowly and low to another log further down the field.
Hopefully it was just exhausted for some reason. We let the dogs back out again to continue their morning run, but I kept them as far from the buzzard as I could. Using binoculars, I eventually watched it fly up to a higher perch before disappearing altogether, so maybe it was OK.
---
WATCH THIS TRAILER!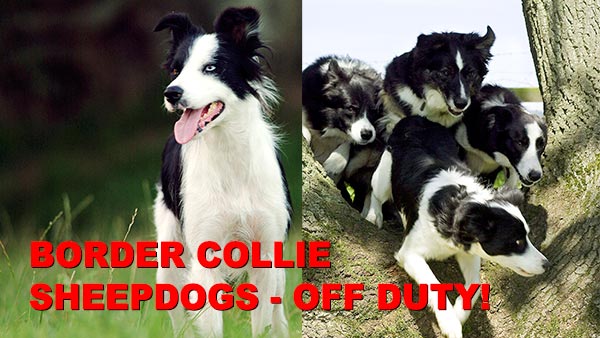 Watch Pearl and our other dogs in action on this preview of our first DVD Border Collie Sheepdogs – Off Duty! (You'll love it.) The DVD is available from our Online DVD Store. The price includes shipping worldwide – and we automatically ship the correct format for your country. More info.