You can get a FREE assessment of your dog's work . Send us a video of your dog working, for a sheepdog training appraisal!
Our advice is based on our interpretation of the information you provide, and intended to help you improve your dog's work. We cannot be held responsible for any unforeseen or unintended consequences which result from your interpretation of our advice or our understanding of the information you provide.
We're looking at ways of improving our service to visitors to The Working Sheepdog Website. That includes assessing videos of training sessions with your sheepdog, cattle dog, as well as any other herding dog which gathers livestock. If there's enough interest, we'll eventually offer a modified version of this service for payment. This is your opportunity to get a free assessment of your dog's work.
Get our opinion of your dog's work
If you'd like our evaluation of your sheep dog's work and how to improve it, get a friend to video one of your sheepdog or farm dog training sessions. Send the video to us (details below). We'll watch the video and then give you our opinion of your dog's work. We'll tell you what we think's right, what's going wrong, why it's going wrong, and how to put it right.
IMPORTANT!
Videos must be no longer than four minutes in length, and in particular MUST include the moment you send the dog to gather the sheep for the first time in that training or working session.
Video quality:
We're not looking for professional quality but if we can't see what's happening, we can't give you an honest sheepdog appraisal. Try to keep the camera horizontal (not vertical) when you begin recording. Keep the camera steady and avoid sudden movement. If possible, record on a still day to avoid wind noise. If we can't hear your commands or whistles, it's impossible to know whether the dog's obeying them!
NO MUSIC!
Whatever you do, don't put a music track over the video. In order that we can assess your dog's work properly we need to hear your commands (if possible) and see how the dog responds to them.
COPYRIGHT
Your video remains your property. We will never use your video in our own productions unless you specifically grant us permission.
Ways to send your video for a free appraisal:
DVD or USB STICK
Copy your video file to a blank DVD or USB Stick and post it to us using the address on our contact page. Video size limited only by the capacity of the DVD or USB Stick (but not

longer than four minutes duration

). Be sure to enclose your full name and contact details. Enclose paid return package if you require the DVD to be returned.
FILE TRANSFER WEBSITES
Upload your video file to one of the specialist file transfer websites such as DropBox WeTransfer, MailBigFile or Hightail. They all offer a free service and you can send us a link via email once the video is uploaded.
SOCIAL MEDIA
Upload your video file to FACEBOOK or TWITTER (X) and tag Andy Nickless (Facebook) or @SheepdogTeacher (Twitter). You may prefer to send the video in a private message (PM) if you don't want it to be available to the public. (Maximum length of Twitter videos is currently 2 minutes, 20s. Tag me in a tweet to let me know you want to send a video privately and I'll follow you to make this possible.)
WHATSAPP
Put us on your contact list, and send the video via WhatsApp – UK: 0777 955 4560 INTERNATIONAL: +44 777 955 4560
YOUTUBE or VIMEO
Upload your video file to YouTube or Vimeo and send us a link to it via our contact page. You may prefer to use YouTube's privacy setting if you don't want the video to be available to the public.
The "small print"
This is a special offer which will run for a short time. It's limited to one short video per person (maximum four minutes duration).
To take part, you do not need to be a paid subscriber to our sheepdog training tutorials, but the advice we give may suggest you to watch one or more of our sheepdog training videos to help you understand the issue better.
We do not guarantee to watch the videos, and we reserve the right to stop doing video sheepdog appraisals at any time, and for any reason.
For a FREE assessment of your dog's work, get a friend to video a working session today!
Page updated 29th October 2023.
CLEAR, AFFORDABLE SHEEP AND CATTLE DOG TRAINING INSTRUCTION
JOIN NOW!
The price you pay will not increase while your membership is valid
Over 70 clearly explained, easy to follow sheep and cattle dog training videos for first time sheepdog trainers, farmers, and shepherds. Just £10 per month or £100 per year (choice of currencies for payment). Watch the preview here!
For French, Spanish or English SUBTITLES click "CC" on player.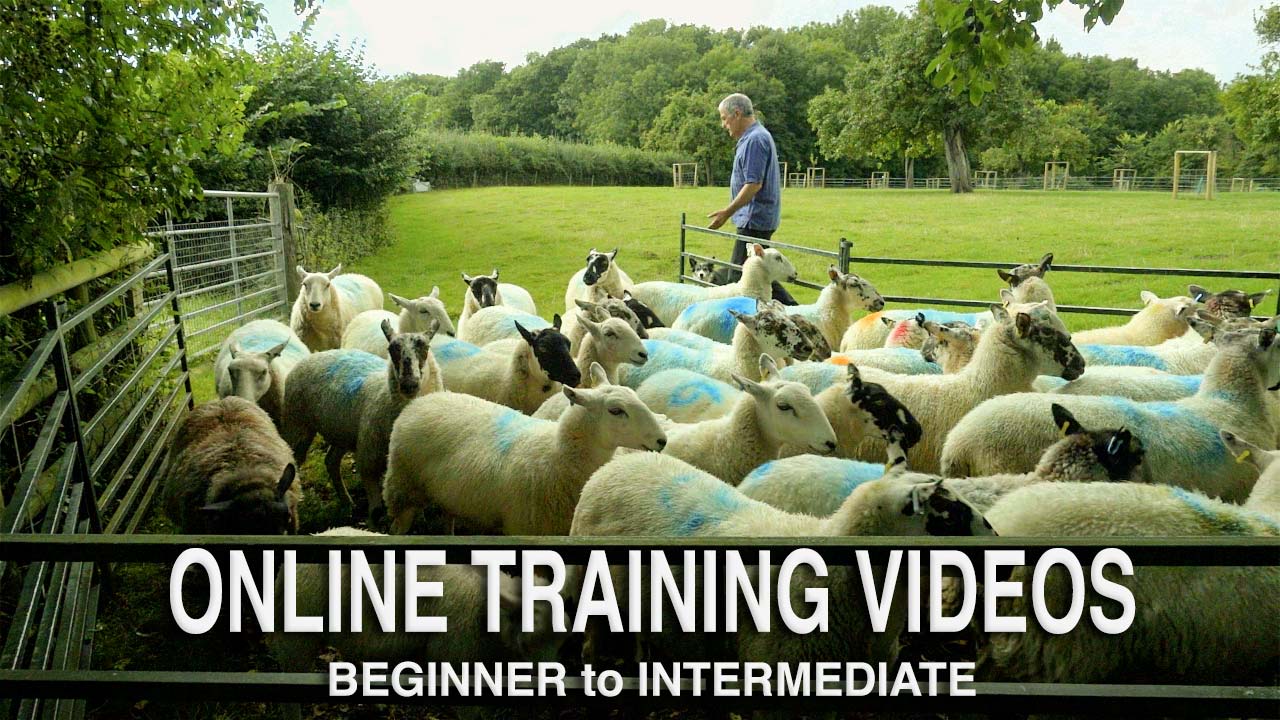 For a very small monthly (or annual) subscription, watch many hours of expertly presented sheepdog training lessons. Not just theory – we show you what should happen, and what to do when things go wrong. Signup now. It's easy to cancel payments at any time and you can continue to watch for the period you paid for.