BEN was the Cornerstone of Killibrae Sheepdogs & star of Derek Scrimgeour's Sheepdog Training Book: "Talking Sheepdogs"
Before his retirement, Ben was a tremendous hill and trial dog – kind but very positive in his handling of the sheep.
He was equally at home working on Derek's Lonscale Farm near Keswick in Cumbria or at the most important sheepdog trials in the world.
This photograph of Ben was used as the cover picture on Derek's book "Talking Sheepdogs". Along with many of the other pictures in the book, it was taken by Andy Nickless.
Ben also proved to be a worthy stud dog for Derek and was a cornerstone of the Killibrae breeding line, producing trials winning offspring including Mike Hubbard's Killibrae Tim and Denis Jenkins' Dell of Killibrae.
Derek Scrimgeour's Ben was Dot's dad!
Ben was the Sire of Andy's first sheepdog, Dot and one of our real favourite sheepdogs, Pearl. Dot showed promise as a nursery trials dog but her special talent was driving sheep and farm work. She eventually went to work driving cattle on a ranch in Idaho USA. Pearl is currently in retirement in Northamptonshire.
Killibrae Ben was fifth in the 2002 Supreme International Sheepdog Championships and he won one of Englands most difficult double lift trials, Jim Cropper's notorious Deerplay Hill, at Bacup in Lancashire, twice. He also won the Yorkshire Championship. He was a very brave dog and could handle even the most awkward cattle.
PLEASE NOTE: Derek Scrimgeour is a superb sheepdog trainer and handler but his training methods are not always compatible with ours. This might be confusing if you subscribe to our Online Sheepdog Training Tutorials (see below) or have watched our
Sheepdog Training DVDs and then decide to buy Derek's book "Talking Sheepdogs".
CLEAR, AFFORDABLE SHEEP AND CATTLE DOG TRAINING INSTRUCTION
JOIN NOW!
The price you pay will not increase while your membership is valid
Over 70 clearly explained, easy to follow sheep and cattle dog training videos for first time sheepdog trainers, farmers, and shepherds. Just £10 per month or £100 per year (choice of currencies for payment). Watch the preview here!
For French, Spanish or English SUBTITLES click "CC" on player.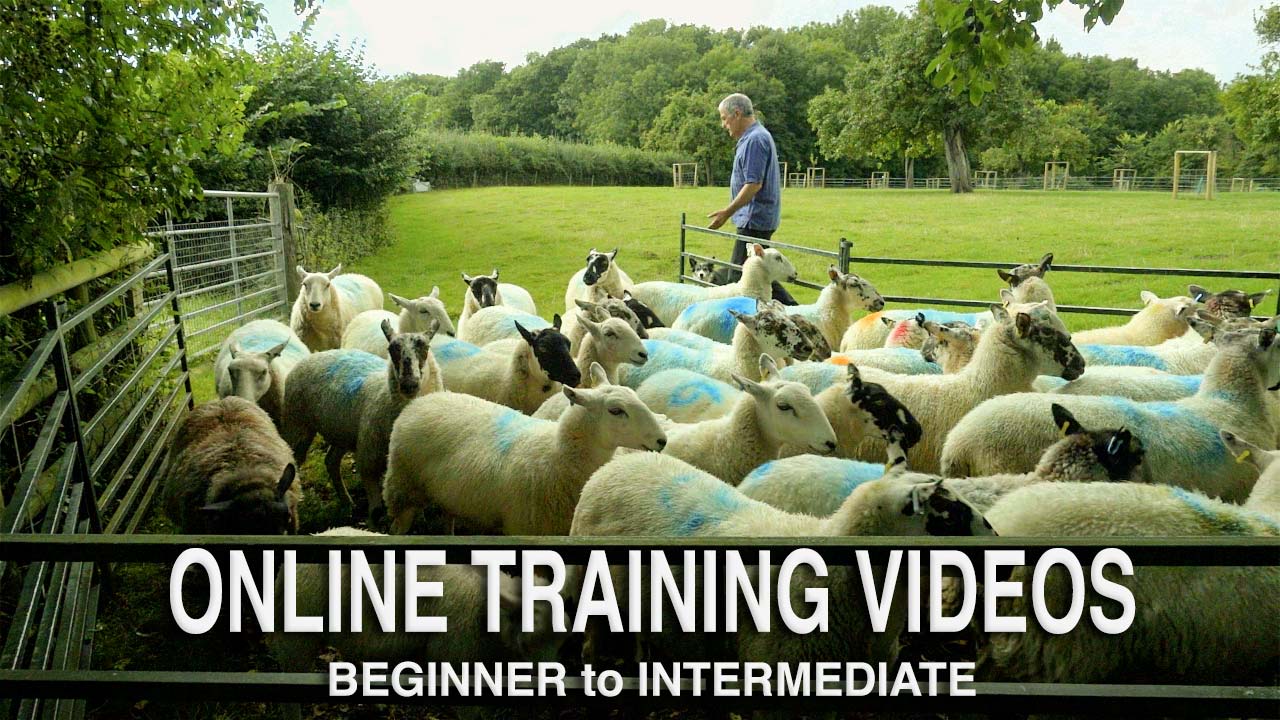 For a very small monthly (or annual) subscription, watch many hours of expertly presented sheepdog training lessons. Not just theory – we show you what should happen, and what to do when things go wrong. Signup now. It's easy to cancel payments at any time and you can continue to watch for the period you paid for.