This is Dennis – not to be confused with our original Dennis featured on the 'Border Collie Sheepdogs – Off Duty!' DVD
Dennis has only been with us a few days. We waited until now to show you a picture of him, as he needed a little time to freshen up after his trip here from mid Wales. Obviously, either Dennis or his sisters (probably all of them, judging by the mess) have yet to get the hang of road travel!
Although we don't normally make a practice of using dog names twice, the moment we set eyes on Dennis, Gill and I immediately thought how similar they look, so we decided Dennis must indeed, be his name.
Just like his namesake, the new Dennis is HUGE – more than twice the weight of his (as yet unnamed) sister next to him in the picture.
The original Dennis was a very big pup (from Mel and Glen). He grew up to be a big dog but was a real whimp when it came to sheep herding!
I remember seeing Dennis (the puppy) sitting in the middle of a group of sheep that were lying in the shade of an apple tree! (I was so disappointed). Later, he did work sheep, but his attention was on me, not the sheep. He would go around them, but not take his eyes off me! (Bless him)!
---
WATCH THIS TRAILER!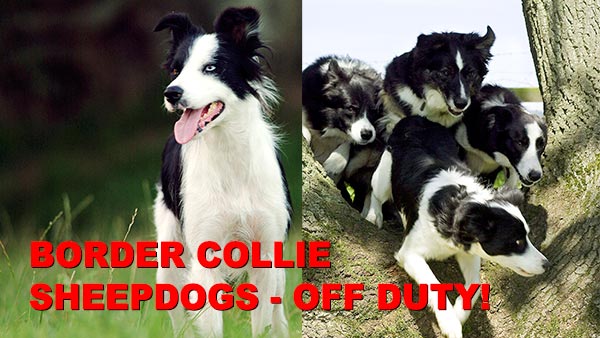 Watch Pearl and our other dogs in action on this preview of our first DVD Border Collie Sheepdogs – Off Duty! (You'll love it.) The DVD is available from our Online DVD Store. The price includes shipping worldwide – and we automatically ship the correct format for your country. More info.