We were delighted to see another Beardie on our sheepdog training course today. Hugh Emerson brought Bess from their home in Cheshire to see whether she was interested in sheep. Bess certainly didn't disappoint him.
Bess got off to a fairly bouncy (puppy-like) start but soon settled down and was holding the sheep together very well. Before the end of the day, Bess could control her sheep in the open field and walked up on them very nicely considering she's only 10 months old and it was her first sheepdog training day.
The other dog on the course was 12 month old Floss with her owner Liz from Warwickshire. I have to say, Floss was excellent. apart from a slight attention span problem, Floss was superb. She gave the sheep room, stopped easily and showed power when required. Both these dogs could make wonderful sheepdogs.
"Demo" Dog Kevin:
Because we only had a total of two dogs on the course, we needed to give the trainee dogs a rest from time to time, so I used Kevin to demonstrate how to control the dog's direction using the positioning of your body and hand signals. Kevin's quite steady on his sheep, so he's ideal for showing beginners what to do. Since his first introduction to sheep, Kevin has been a pleasure to train. He's one of those dogs with natural ability to control sheep in a relaxed way.
Time to let off steam
After a day confined to barracks while other dogs were training, Kevin and his sister Midge let off steam in their favourite way – chasing each other around the pond and play-fighting. We love to see the dogs (of all ages) relax like this and try to encourage it. "All work and no play makes Jack a dull boy" is true for dogs as well as people, and it's good for their fitness and physical development (of course), as well as their character. Despite being litter mates Midge and Kevin are very obedient both around and away from sheep, but we make a point of training and spending time with each of them individually. If you can't give puppies individual attention then litter mates (or even unrelated puppies kept together) can be a nightmare!
CLEAR, AFFORDABLE SHEEP AND CATTLE DOG TRAINING INSTRUCTION
JOIN NOW!
The price you pay will not increase while your membership is valid
Over 70 clearly explained, easy to follow sheep and cattle dog training videos for first time sheepdog trainers, farmers, and shepherds. Just £10 per month or £100 per year (choice of currencies for payment). Watch the preview here!
For French, Spanish or English SUBTITLES click "CC" on player.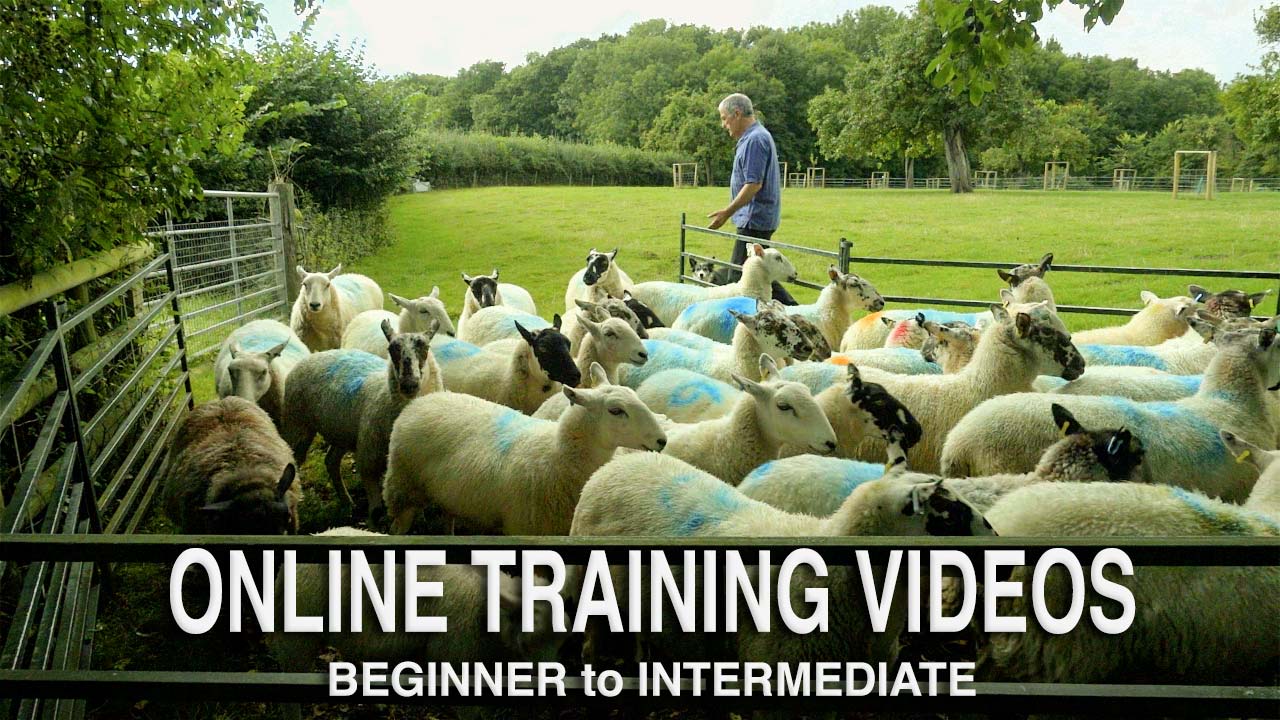 For a very small monthly (or annual) subscription, watch many hours of expertly presented sheepdog training lessons. Not just theory – we show you what should happen, and what to do when things go wrong. Signup now. It's easy to cancel payments at any time and you can continue to watch for the period you paid for.