Among the many important attributes that I look for in a trainee sheepdog are confidence, the power to move stubborn sheep, and 'sheep sense'.
By 'sheep sense', I mean a dog that can 'read' what the sheep are about to do and act accordingly.
You wouldn't expect a ten month old dog with little training and absolutely no flock experience to have acquired much of an insight into the intentions of a group of disgruntled ewe-lambs. This is the kind of wisdom you'd normally associate with much older dogs like our nine year old Mel, or even Kay, who's a mere three and a half.
Having said that, from the moment Carew (Mel and Eli's pup b. 10th March 2011) took an interest in working sheep at five and a half months old, I knew I had an exceptional dog on my hands. I remember saying to Gill that I felt a strong bond between Carew and myself but poor Gill's heard all this stuff before, so she doubtless took it with a pinch of salt.
Indeed, I was also half expecting things to go wrong – they so often do. It's very easy to let your enthusiasm for a young dog get the better of you and many a promising youngster has been ruined by inspired trainers who expect too much too soon and subsequently over-train the dog. With this in mind, I've made a point of taking Carew to sheep sparingly, and when I do, trying to restrict her work to simple tasks.
This is easier said than done though – Carew is one of those dogs that just gets on with it, and (just like her mother) gets the job done without fuss or excitement. So calm is she when working, it would be easy to think she's unenthusiastic but she's not, she just does whatever she's asked.
I had occasion a week or so ago to ask her to go into a pen that was tightly packed with sheep and bring them out. I would normally have fetched a more experienced dog to do it, but I was in a hurry, and Carew was there at the time, so I thought it worth a try. She just trotted quietly into the pen and around the sheep and when she was at the back, just looked back at the sheep as if to say 'oh yes – and what are you going to do about it'? The sheep, knowing that she meant business, just vacated the premises and Carew trotted out after them as though she did this sort of thing every day.
Today we had a group sheepdog training course but we had late cancellations for three of the dogs, so I needed to fill in a little time to give the attending trainee dogs a break. They get mentally as well as physically tired very quickly if you're not careful.
The sheep we'd been using in the training ring were fine whilst in the enclosure but in the open field, they proved very difficult and inclined to bolt back up the field in an attempt to re-join the rest of the flock. None of the trainee dogs were able to control the sheep outside the enclosure, even at close quarters – not really through any fault of their own, but just a lack of experience. Even little Kay, who's a superb assistant when we hold our courses, struggled to get the errant sheep back into the enclosure.
I wanted to give Carew a run, and I'd already enthused about her to the trainee trainers, so when the time was appropriate, I brought Carew to the enclosure and worked her there. She was in total control of her sheep from the moment she got into the ring, and so I decided to try her with the sheep outside.
True to form, the sheep 'played up' and one of them got away. It dashed up the field, but I was consoled to see Carew keep control of the remaining three. Feeling confident, I decided to try to get her to 'look back' (go back and fetch the missing sheep) but as I'd never tried this with her before, and the sheep was some fifty yards away, it was a long shot.
Carew was somewhat confused when I suddenly walked towards her saying 'look back, look back' but in the confusion, the remaining sheep decided to make a bid for freedom like their counterpart. Carew instantly realised what was happening and turned to head them off. At this stage, she noticed the lone sheep some forty or so yards further on. I was so pleased to see her widen her outrun in order to get ahead of the lone sheep as well as the remainder of the group.
Once she had them reunited, her problems were by no means over. The sheep were clearly annoyed, and did their utmost to escape but Carew had their every move covered – until three went one way, and one went the other. I yelled at Carew to stop and she did, then she looked at the lone sheep, back at the group and then at the lone sheep again. She was clearly weighing up what action to take. I wanted her to keep still as I calculated that the best way to reunite the sheep was for her to stay where she was. If she'd gone after either party, the other would have run off but they were close enough to want to get back together.
Imagine my pride when the lone sheep trotted back to the others, and I was able to keep Carew far enough back to bring them in a straight line back to the enclosure. This is the class of work you expect from an older, more experienced dog.
CLEAR, AFFORDABLE SHEEP AND CATTLE DOG TRAINING INSTRUCTION
JOIN NOW!
The price you pay will not increase while your membership is valid
Over 70 clearly explained, easy to follow sheep and cattle dog training videos for first time sheepdog trainers, farmers, and shepherds. Just £10 per month or £100 per year (choice of currencies for payment). Watch the preview here!
For French, Spanish or English SUBTITLES click "CC" on player.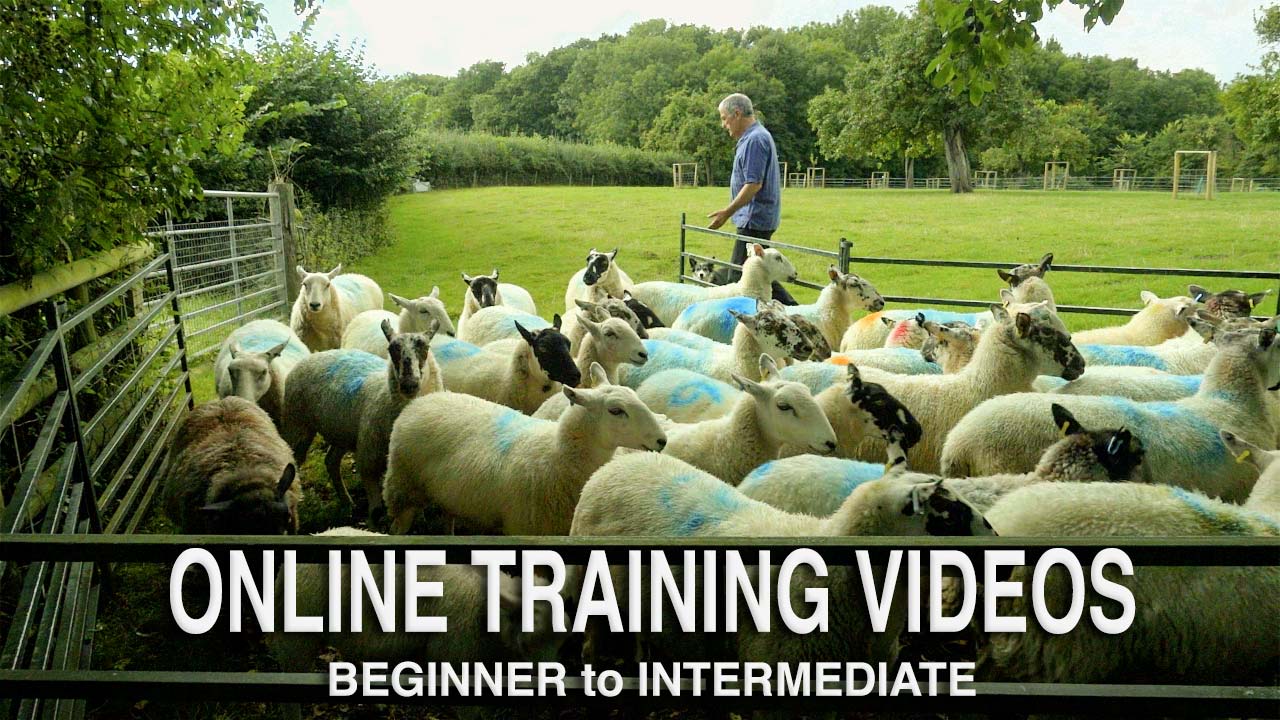 For a very small monthly (or annual) subscription, watch many hours of expertly presented sheepdog training lessons. Not just theory – we show you what should happen, and what to do when things go wrong. Signup now. It's easy to cancel payments at any time and you can continue to watch for the period you paid for.